AP source: QB Derek Carr meeting with Jets this weekend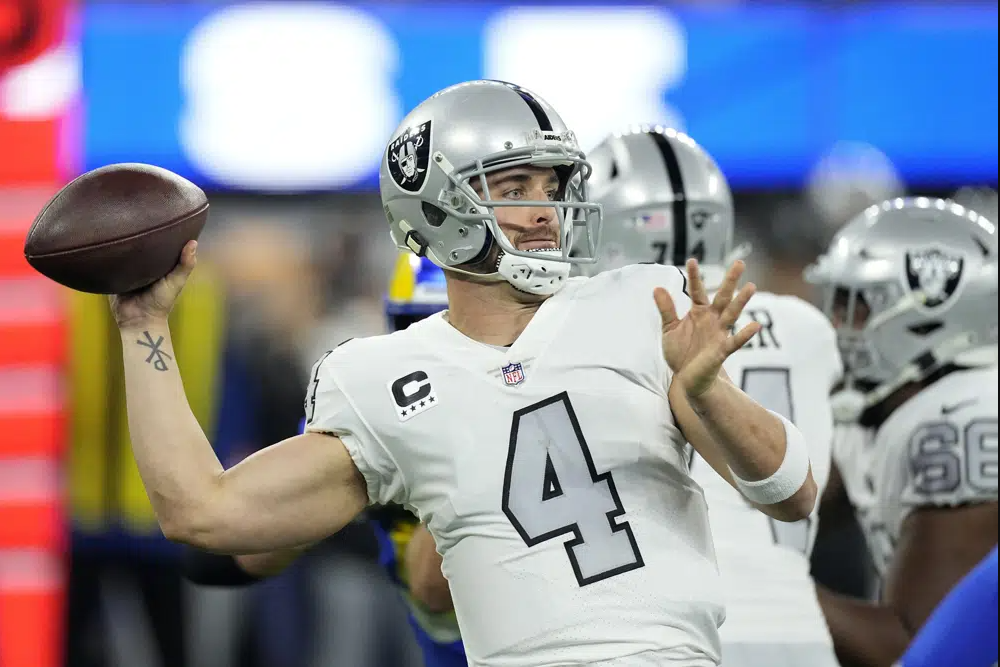 Free agent quarterback Derek Carr is meeting with the New York Jets this weekend, according to a person familiar with the situation.
The 31-year-old Carr, who spent his first nine NFL seasons with the Raiders, was released by Las Vegas on Tuesday after he declined to waive the no-trade clause in his contract. Las Vegas needed to trade or release him by Wednesday or $40.4 million of his contract over the next two years would have become fully guaranteed.
The Jets are looking for a veteran quarterback to lead their offense after Zach Wilson struggled mightily after being the No. 2 overall pick in the 2021 draft. Carr is a potential replacement and New York is bringing him in for a visit, the person told The Associated Press on Friday on condition of anonymity because the team didn't announce its plans.
NFL Network first reported Carr will visit with the Jets, who are the second team that the quarterback has met with; he also visited New Orleans shortly before his release.
New York is also expected to be interested in Green Bay's Aaron Rodgers if he is made available. The four-time NFL MVP told "The Pat McAfee Show" earlier this week he was going to spend four days in isolation on a personal retreat and determine whether he wants to continue his playing career.
Carr, the Raiders' second-round pick in 2014, threw 24 touchdown passes with 14 interceptions this season. After struggling late in the season, Carr was benched with two games remaining and acknowledged he was angry about the decision.
He said in a social media post "it breaks my heart" to stay away from the team as the season ended.
"I once said that if I'm not a Raider, I would rather be at home and I meant that, but I never envisioned it ending this way," Carr wrote.
Carr confirmed he wasn't retiring from playing and "that fire burning inside me to win a championship still rages."
The Jets are looking for a quarterback who can team with new offensive coordinator Nathaniel Hackett to jumpstart an offense that was among the NFL's worst during the last two years under Mike LaFleur.
If he signs with New York, Carr would also be reunited with Todd Downing, the former Tennessee Titans offensive coordinator who was recently hired by the Jets as their passing game coordinator. Downing was the Raiders' quarterbacks coach from 2015-16 before serving as offensive coordinator in 2017.