Breanna Stewart edges Alyssa Thomas and A'ja Wilson for WNBA MVP award in tight race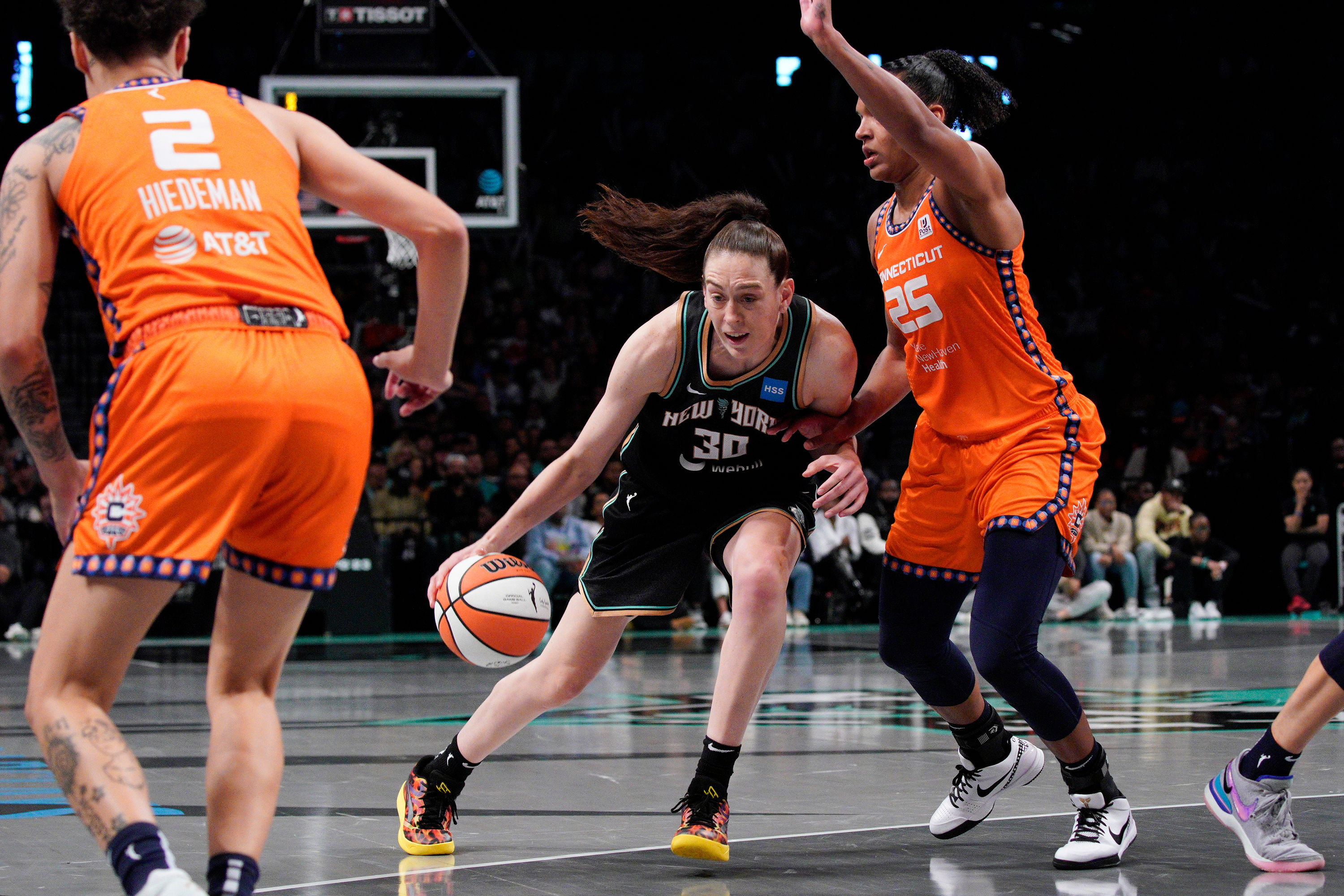 Breanna Stewart earned the WNBA's Most Valuable Player award for the second time in her career Tuesday in a very close race.
There were only 13 points separating Stewart from second-place finisher Alyssa Thomas of Connecticut and last year's MVP A'ja Wilson of Las Vegas. Stewart received 446 points (20 first-place votes, 23 second-place votes and 17 third-place votes). Thomas had 439 points (23, 12 and 25). Wilson received 433 points (17, 25, 17 and 1).
With Stewart and Thomas separated by seven points, this marks the second-smallest margin between the first- and second-place finishers in the history of the award. The closest finish was a two-point difference between Sheryl Swoopes and Lauren Jackson in 2005.
The 13 points separating Stewart and Wilson represent the smallest margin between first- and third-place vote-getters for MVP in WNBA history, surpassing the 45-point difference in 2013 between Candace Parker and Elena Delle Donne.
All the WNBA awards are voted on by a 60-person national media panel and had them vote for their top five choices for the MVP award. Players were awarded 10 points for a first-place vote, seven points for a second-place vote, five points for a third-place vote, three points for a fourth-place vote and one point for a fifth-place vote.
The Liberty's star forward was impressed with the way the other two top candidates played this season.
"The competitive camaraderie that we have with one and another, but also the way we're continuing to show excellence in different ways and be the conversation. that's the way the league needs to go," Stewart said. "Have people watching different players and making sure they see greatness on all different levels."
The 29-year-old Stewart, who also won the award in 2018, made the decision to move closer to home and come to New York as a free agent this past offseason. The move has paid immediate dividends for her and the Liberty. The AP Player of the Year helped the team finish the regular season with the second best record and was the WNBA's second leading scorer, averaging a career-best 23 points a game. She scored over 40 points three times this season, including 45 in her home debut.
Now she has the Liberty back in the semifinals of the playoffs for the first time since 2015, although her team trails Connecticut 1-0 in the best-of-five series. She's the first New York player ever to win the league's top honor.
Wilson, who edged Stewart 478-446 last season in the MVP balloting, had another stellar season, averaging a career-best 22.8 points and 9.5 rebounds in leading the Aces to a record 34 wins. She had 29 games of 20 points or better this season. She's upped her game in the playoffs as Las Vegas looks to become the first repeat champion since Los Angeles did it back-to-back in 2001-02.
Thomas was the first player in league history to record at least 600 points, 400 rebounds and 300 assists in a single season. She also set a league high with 27 double-doubles — including six triple-doubles — and set a league record with 316 assists — 7.9 per game — despite playing forward.