Bronx family mourns loss of 5-year-old due to COVID-19 complications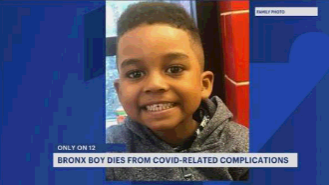 Family members are devastated after a 5-year-old boy lost his life due to coronavirus-related complications. 
They say the life of Christopher Hanson was taken too soon.
"He didn't get to experience life, he didn't get to go to first grade," said Diamond Ross, Hanson's mother. 
"It was very disturbing to see someone his age in that condition," said Hanson's grandfather, Dwayne Dennis. 
The five-year-old developed a fever, stomach pain and headaches, so his mother took him to Bronx Lebanon Hospital. 
"When they did a CT scan, they noticed that something was around his lungs. They had to sedate him," said Ross. 
They say his kidneys started to fail, so that's when they took him to Mount Sinai Children's Hospital where he had heart surgery. 
"He wound up having a blood clot in his brain and a few days later he was pronounced brain dead. Right there, there is no coming back from that," said Dennis. 
"His brain stem went dead and both sides of his brain went into shock," said Ross. 
Gov. Andrew Cuomo says officials previously thought children weren't getting very sick from the virus, but this painful news would open up a new different chapter. 
Hanson was close with his grandmother, who also tested for COVID-19, recovered and survived. 
"Their relationship was unbreakable," said Ross. 
The family says they have one last message for others.
"Keep their kids inside, and wear a mask at all times, clean their hands at all times because you could be here today, and next you're in the hospital," said Ross.