Bronx family reveals 5-year-old child died from complications due to COVID-19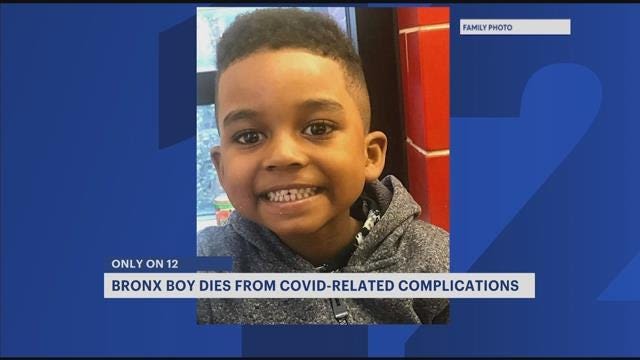 A Bronx family tells News 12 that a 5-year-old boy died from complications related to COVID-19.
Doctors say while it's rare, coronavirus can cause severe illness in children. Christopher Hanson was close to his grandmother, who the family says tested positive for COVID-19 but recovered.
The grandfather of the 5-year-old says the boy developed a fever, abdominal pain, heart infection and head swelling two weeks ago.
He tells News 12 Hanson was being treated at Bronx Lebanon, and then transferred to Mount Sinai Children's Hospital after his kidneys started shutting down.
HIs grandfather says after a few days, he became brain dead.
Gov. Andrew Cuomo acknowledged Christopher, also known as CJ's, death in his briefing Friday, saying 73 other children have become severely ill with similar symptoms.
CJ's family says it was awful to see someone so young in that state. They are encouraging other families to have their children wear a mask and do a lot of hand washing, and also stay inside as a precaution.
PHOTOS: COVID-19 impacts the world