Cardinal Timothy Dolan blesses affordable housing building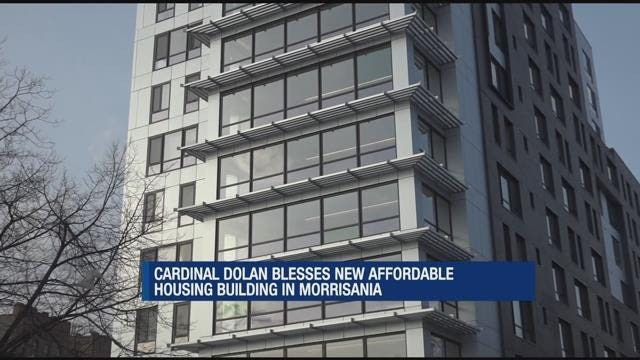 Cardinal Timothy Dolan blessed a new affordable housing building in Morrisania Monday.
The building is now called the St. Augustine Terrace because the St. Augustine Church once stood there. Tenants have been living there since September, thanks to the work of Catholic Charities.
 Dolan rang a symbolic bell at the event to mark the connection between the church that served this area for over 100 years and the apartments providing a home for the tenants.
There are 112 units. About 23% of them are three-bedroom units, giving larger families a chance to stay there.
The city's first lady, Chirlane McCray, was in attendance at the blessing and announced 35 of the units will be set aside for adults with mental illness.
The cardinal said providing housing is a responsibility of theirs.

"For us and the Church, this a no-brainer, it's a duty. It's something we are obliged to do," he said.

Catholic Charities also announced its plans to construct 1,500 to 2,000 more affordable homes in the next 10 years.