CUNY teachers hold rally for education and wage justice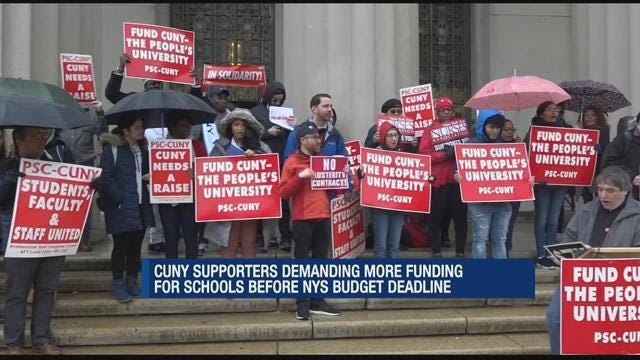 Teachers, students and supporters of CUNY Schools held a rally at the Bronx County Courthouse Friday demanding lawmakers put an end to what they call a CUNY funding crisis.
State and city funding for CUNY has reduced over the years. Adjunct professors are earning poverty wages – making an average of $3,500 per course, which comes out to $28,000 a year. They are demanding $7,000 per course.
"Our students need us to be there for them at our best and that means not hungry, not exhausted, and not rushing to another job," says Carly Smith, of Professional Staff Congress (PSC), which represents CUNY teachers who have been working without a contract for the past 15 months.
Many say they have had to take on a second job.
"We're not asking for the world. We're just asking for access to the world," says Smith.
Teachers hope a raise will be part of the state budget, which is due on April 1.