Cuomo declares emergency as New York coronavirus cases climb to 89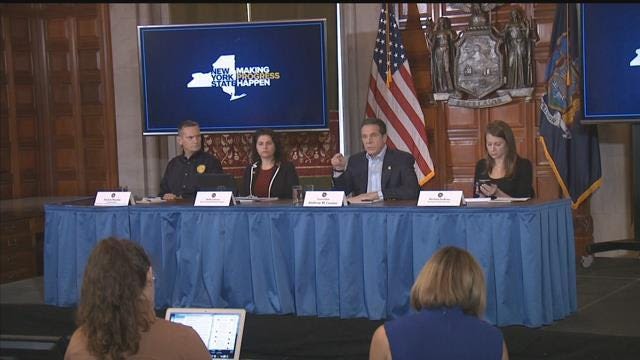 Coronavirus cases in New York state have climbed to 89, Gov. Andrew Cuomo said Saturday evening.
The total includes 70 cases in Westchester County, 11 in New York City, four in Nassau County, two in Rockland County and two in Saratoga County, according to Gov. Cuomo.
Earlier Saturday, the governor said he is declaring an emergency to give the state additional resources to respond.
The state of emergency will allow for the expedited procurement of cleaning supplies, hand sanitizer and other essential resources; allowing qualified professionals other than doctors and nurses to conduct testing; allowing EMS personnel to transport patients to quarantine locations other than just hospitals, among other things.
In New York City, two people who came off of a cruise ship tested positive for the virus and five were community spread.
Cuomo says they may have to reset the quarantine period, which is currently 14 days.
He is also advising elderly people and people with weakened immune systems to be cautious of going out in crowds.
"We have to be worried about nursing homes," Cuomo said. "They've been given specific instructions to the staff. In New Rochelle, we're taking an added precaution -- no outside visitors."
The governor says the state has performed hundreds of tests for the virus so far.
The New York state Department of State's Consumer Protection Division will also be investigating reports of unfair price increases of consumer products, like hand sanitizers and cleaning supplies. New Yorkers can call 1-800-697-1220 to report suspected price gouging.
News 12 will host a 30-minute call-in show Monday, March 9 at 7:00 p.m. where experts will answer your questions about the coronavirus. The show will be followed by a special Facebook Live Q&A.
PHOTOS: The impact of the coronavirus outbreak around the world: