Cuomo offers broad reopening outline, says some upstate businesses may reopen around May 15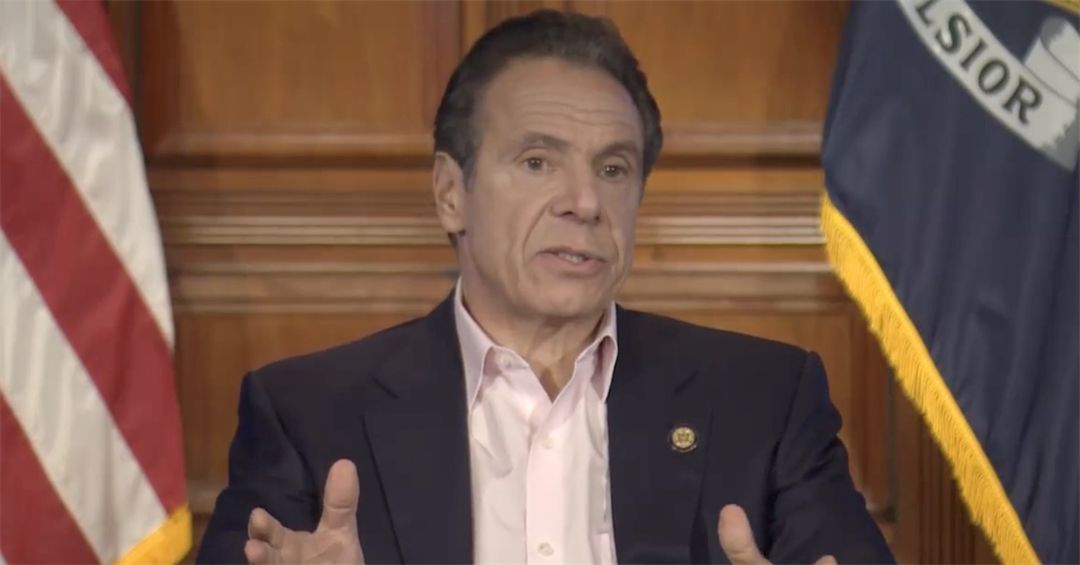 New York's daily coronavirus death toll dropped Sunday to below 400, less than half of the deaths recorded at the height of the coronavirus crisis in the state's hospitals.
Gov. Andrew Cuomo said the 367 deaths from the coronavirus that he reported Sunday were "horrific," but the number was less than half the nearly 800 deaths that occurred in a single day during the pandemic's peak in New York.
It is the first time this month that the statewide daily death toll has been below 400.
He also reported that the number of hospitalizations, which still topped 1,000, and the number of individuals put on a ventilator had dropped as well.
The deaths recorded Saturday and reported Sunday included 349 patients who died in hospitals and 18 individuals who died in nursing homes, the Democratic governor said.
On Saturday, Cuomo had said there were 437 deaths on Friday.
"Short term, the numbers are on the decline." Cuomo said. "Everything we've done is working. The policies are working. There's no doubt that at this point, we've gone through the worst."
In another sign of the improving numbers, the final patient on the USNS Comfort was discharged on Sunday. The 1,000-bed hospital ship, docked at a Manhattan pier since March 30, has treated 182 patients. Soon, it will depart for its homeport in Norfolk, Virginia.
Construction and manufacturing jobs that represent low risks for workers will be among the first to resume once New York state begins reopening after the coronavirus shutdown, the governor said Sunday.
Retail jobs and workers in the hospitality and hotel industry may be among the last to return, Gov. Cuomo said at his news conference.
And sports such as baseball probably will have to figure out if the economics work without fans in the stands, he said.
"Everybody has to think outside the box because there is no box," he said.
The Democrat said determinations of when reopening begins will follow federal guidance that says reopening should not begin until the state and regional hospitalization rate has declined for two weeks.
He said which businesses reopen after the restart of construction and manufacturing will depend on how essential they are and how safe they can operate.
Once those businesses reopen, a two-week period would follow before more businesses reopen.
"I don't want to just reopen. We learned a lot of lessons here, painfully," he said. "How do we take the lessons we learned and say when we reopen, we're going to be the better for it? It's not about a return to yesterday. There is no return to yesterday in life."
He compared New York's upstate communities to the Midwest, saying some areas might be ready to reopen sooner than other areas. But he said he had to consider the possibility that residents of areas that are still closed might flood toward any place that opens.
-The Associated Press
BRIEFING NOTES:

•Governor cites 'relatively good' news.  Total hospitalizations down to the level they were at on March 31.  Number of intubations is also down, as well as number of new COVID cases.  
 •367 new deaths reported. 
 •Gov. Cuomo discusses reopening and reimagining, says hospitals will be monitored and that reopening will take place in phases.  
•Phase 1: Construction and manufacturing with low risk.  
•Phase 2: A business-by-business analysis, more essential, lower-risk businesses.  Says input from businesses will be needed.  
•The governor says there will be no attractions open that would draw a large number of visitors from outside the area.  
•Decisions will be made with other nearby states with a focus on downstate New York. 
•Gov. Cuomo floats sports without an audience and drive-ins as potential parts of the reopening phases.  
•Governor says businesses need to design for 'the new normal.'
•Gov. Cuomo says public health must me monitored throughout any plans moving forward.  
•Governor says testing is key to continuous monitoring.  
•Gov. Cuomo says L train tunnel project is complete and is opening today.
•Governor says parts of upstate regions might start phase 1 reopening around May 15.  
•When asked about schools, Gov. Cuomo says many districts are considering summer school to make up for the district closures.  Says it is too soon to put together a plan.  
•Gov. Cuomo urges everyone not to underestimate the stress that this situation has created.  Calls it a 'toxic mix' of events. 
PHOTOS: Countries around the world cope with COVID-19