Eagles, Hurts get week of much-needed rest as NFC's top team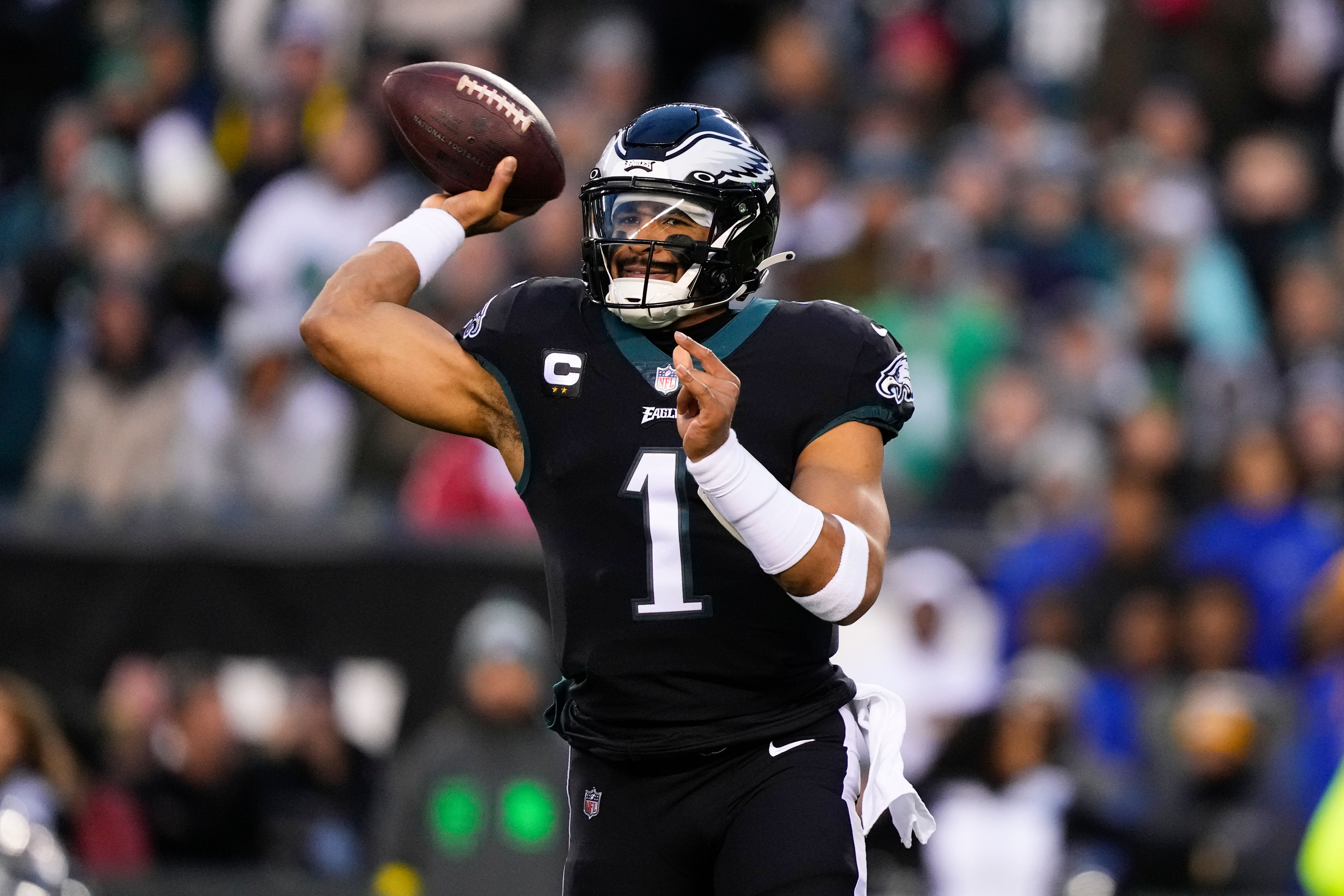 Jalen Hurts couldn't wait to get back to work so he could get some more time off.
Hurts returned to Philadelphia's lineup last weekend after missing two weeks with a sprained right shoulder and helped the Eagles secure the top seed and lone bye in the NFC playoffs.
"We're the No. 1 seed and we are the NFC (East) champs and that's the goal we set out to do. Now I can continue to recover and be ready for the playoffs," Hurts said after operating a conservative offense designed to keep him safe and leading the Eagles to a 22-16 win over the Giants' backups in Week 18.
"Winning pretty is not a priority," second-year coach Nick Sirianni said.
The Eagles, who are 14-1 with Hurts in the lineup and 0-2 without him, didn't need their second-year starter to be at his best in the regular-season finale, but they will the rest of the way.
Hurts and the Eagles will sit back and watch wild-card weekend which starts Saturday when the Seahawks (9-8) visit the 49ers (13-4).
On Sunday, the Vikings (13-4) host the Giants (9-7-1) and on Monday night, the Cowboys (12-5) visit the Buccaneers (8-9), who have a losing record but the biggest winner in playoff history with Tom Brady under center.
1. PHILADELPHIA EAGLES (14-3). One Lombardi in three Super Bowl appearances: lost to Raiders 27-10 in Super Bowl 15, lost to Patriots 24-21 in Super Bowl 39, beat Patriots 41-33 in Super Bowl 52. Last year: 9-8, lost to Buccaneers 31-15 in wild-card round.
Plan the parade: Jalen Hurts. The third-year QB earned his first Pro Bowl selection and surged into MVP contention with one of the greatest seasons in team history. His 35 total touchdowns tied a franchise record and his bid to set several more marks was only slowed by a sprained right shoulder late in the season. Hurts missed two games and the Eagles lost both of them. With Hurts back in the fold for the regular-season finale, he led the Eagles to a victory and the No. 1 seed and home-field advantage in the NFC playoffs. The previous No. 1 seed to win the Super Bowl? The Eagles in the 2017 season.
Cancel the confetti: The Eagles have been bit late in the season by injuries. They need Hurts to be fully recovered and they hope the bye week can only help his progress. All-Pro offensive tackle Lane Johnson has been out with a groin injury and several other Eagles are easing back into the lineup. The Eagles were almost unbeatable while at full strength this season, but without Hurts they'll be hard-pressed to make any noise in the playoffs.
"I just know that we have so much more out there for us, so I'm eager to get back to work and continue to grow with these guys. I challenge everybody in that locker room to not only hold themselves accountable, but also hold the men next to them accountable. Coaches, trainers, janitors, everybody, it takes everybody. It takes a village, truly. That's where my focus is." — Hurts.
2. SAN FRANCISCO 49ers (13-4). Five Lombardi trophies in seven Super Bowl appearances: beat Bengals 26-21 in Super Bowl 16, beat Dolphins 38-16 in Super Bowl 19, beat Bengals 20-16 in Super Bowl 23, beat Broncos 55-10 in Super Bowl 24, beat Chargers 49-26 in Super Bowl 29, lost to Ravens 34-31 in Super Bowl 47, lost to Chiefs 31-20 in Super Bowl 54. Last year: 10-7, No. 6 seed, beat Cowboys 23-17 in wild-card round, beat Packers 13-10 in divisional round, lost to Rams 20-17 in NFC championship game. Third playoff appearance in four years.
Plan the parade: San Francisco might have the NFL's most complete roster that fueled a 10-game winning streak to end the regular season. The defense was the stingiest in the NFL led by the league's leading sacker in Nick Bosa and versatile LB Fred Warner. The offense hit a new level after the midseason addition of Christian McCaffrey to a group of playmakers that already featured stars George Kittle, Deebo Samuel and Brandon Aiyuk. Then instead of taking a step back when QB Jimmy Garoppolo went down, rookie Brock Purdy has led the Niners to more than 33 points per game.
Hold the confetti: As good as Purdy has been the past six weeks, he still is a rookie who was chosen last in the draft back in April. If he takes a step back under the bright lights of the postseason that could doom the hopes for the Niners. The dominant defense also has one glaring weakness as San Francisco has been beaten too often by big plays over the top. If any offense is able to take advantage of that the way Kansas City did in Week 7, a 44-23 defeat at home, the Niners could be in trouble.
"We have everything that we need on this team to do what we want to do this postseason." — Warner.
3. MINNESOTA VIKINGS (13-4). No Lombardi trophies in four Super Bowl appearances: lost to Chiefs 23-7 in Super Bowl 4, lost to Dolphins 24-7 in Super Bowl 8, lost to Steelers 16-6 in Super Bowl 9, lost to Raiders 32-14 in Super Bowl 11. Last year: 8-9, missed the playoffs. First NFC North title since 2017.
Plan the parade: Justin Jefferson became a true superstar at age 23 this season, all but ending any debate about who the best wide receiver in the game is with a league-leading 1,809 yards and 128 receptions. First-year coach Kevin O'Connell has consistently created ways for QB Kirk Cousins to get him the ball, frequently moving him around the formation and maximizing his keen route-running abilities to keep from getting bottled up by double coverages. Cousins has also established productive connections with WRs Adam Thielen and K.J. Osborn and TE T.J. Hockenson, giving the Vikings as diverse of a passing attack as any team in the playoffs. The Vikings went 11-0 in games decided by eight points or fewer during the regular season, an NFL record.
Cancel the confetti: The defense allowed 300-plus passing yards eight times this season on the way to a second-worst finish in the league in total yards allowed and fourth worst in points against. Veteran CB Patrick Peterson had five interceptions and 15 passes defensed, his most since 2012, but a lagging pass rush down the stretch put more pressure on the secondary and defensive coordinator Ed Donatell's schemes.
"Playoffs are likely going to be one-score games, and hopefully that continues into the playoffs." — Cousins.
4. TAMPA BAY BUCCANEERS (8-9). Two Lombardi trophies in two Super Bowl trips: beat Raiders 48-21 in Super Bowl 37, beat Chiefs 31-9 in Super Bowl 55. Last year: 13-4, No. 2 seed, beat Eagles 31-15 in wild-card round, lost to Rams 30-27 in divisional round. Won second straight NFC South title despite a losing record.
Plan the parade: Tom Brady. No one's star has shined brighter in the playoffs. The seven-time Super Bowl champion holds numerous postseason records, including games played (47), wins (35), passing yards (13,049) and touchdown passes (86). He's 5-1 with one NFL title in two years with Tampa Bay following a historic two-decade run with the New England Patriots. At age 45, he broke his own league record for completions in a season with 490 and ranked third behind Patrick Mahomes and Justin Herbert in passing yards with 4,694 after unretiring. He's thrown at least two TD passes in five of six playoff games he's played with the Bucs.
Cancel the confetti: Despite the impressive numbers Brady posted in his 23rd season, the Bucs were not nearly as good offensively as they were the past two seasons. Injuries forced the QB to play with a constantly changing cast of linemen and receivers, contributing to problems sustaining drives and scoring TDs. Tampa Bay scored 18.4 points per game — 25th in the league — after averaging more than 30 the past two years. Brady got little help from the team's 32nd-ranked rushing attack.
"This was a different year to say the least. To be able to fight through it and still end up in the tournament says what type of players we have and what job I think our coaching staff did — offense, defense and special teams." —offensive coordinator Byron Leftwich.
5. DALLAS COWBOYS (12-5). Five Lombardi trophies in eight Super Bowl appearances: lost to Colts 16-13 in Super Bowl 5, beat Dolphins 24-3 in Super Bowl 6, lost to Steelers 21-17 in Super Bowl 10, beat Broncos 27-10 in Super Bowl 12, lost to Steelers 35-31 in Super Bowl 13, beat Bills 52-17 in Super Bowl 27, beat Bills 30-13 in Super Bowl 28, beat Steelers 27-17 in Super Bowl 30. Last year: 12-5, No. 3 seed, lost to 49ers 23-17 in wild-card round.
Plan the parade: If Dak Prescott can fix his interception woes, the Dallas offense has proven to be one of the league's best since he returned from a five-game absence with a broken thumb. WR CeeDee Lamb was enjoying the best stretch of his career before the clunker for the entire offense in the regular-season finale against Washington. The RB tandem of Ezekiel Elliott and Tony Pollard can be difficult to defend.
Hold the confetti: Injuries on the OL finally caught up with the running game late in the season, which ended with the first back-to-back games of fewer than 100 yards in 2022. But the Cowboys expect to have the unit they settled on in the final weeks with C Tyler Biadasz returning from an ankle injury. The defense isn't dominant without turnovers and sacks, so Dallas is likely to need one or the other — maybe even both — to make the deep run that has eluded the franchise since the 1995 season.
"There is always a turn the page, reboot, whatever phrase you're looking to use when the regular season ends and the playoffs start. You want as much consistency and conformity to how you always operate. We all understand what these games mean. We're guaranteed four quarters. That's all we're guaranteed." — Cowboys coach Mike McCarthy.
6. NEW YORK GIANTS (9-7-1). Four Lombardi trophies in five Super Bowl appearances: beat Broncos 39-20 in Super Bowl 21, beat Bills 20-19 in Super Bowl 25, lost to Ravens 34-7 in Super Bowl 35, beat Patriots 17-14 in Super Bowl 42, beat Patriots 21-17 in Super Bowl 46. Last year: 4-13, missed playoffs. First playoff appearance since 2016.
Plan the parade: This is one of the NFL's youngest teams. They believe in one another and bought into rookie head coach Brian Daboll's mantra of focusing on the present. QB Daniel Jones is having a career season despite the team not picking up the fifth-year option on his rookie contract. After needing more than a year to overcome an ACL injury, RB Saquon Barkley is playing like the rookie who had a great 2018. Wink Martindale's defense is a blitz-happy group which has rookie OLB Kayvon Thibodeaux starting to step up while getting big seasons from DT Dexter Lawrence and S Julian Love.
Hold the confetti: There isn't enough depth and the big plays are a rarity. New York had 28 passes of 20 yards or more, with only 10 going for 30 or more. The glaring weakness is at wide receiver. Sterling Shepard and rookie Wan'Dale Robinson were lost to injuries. Kadarius Toney was traded to Kansas City and Kenny Golladay has one TD in two years after signing a $72 million contact. The starters are Darius Slayton, Richie James and Isaiah Hodgins. Slayton was in the doghouse at the start of the season. James was the punt returner. Hodgins was acquired on waivers in November.
"We're by no means satisfied just to be in the playoffs. We expect to play well and to win. And that's our expectation every week; that doesn't change this week." — Jones.
7. SEATTLE SEAHAWKS (9-8). One Lombardi in three Super Bowl trips: lost to Steelers 21-10 in Super Bowl 40, beat Broncos 43-8 in Super Bowl 48, lost to Patriots 28-24 in Super Bowl 49. Last year: 7-10, missed playoffs. Eighth playoff appearances in the past decade.
Plan the parade: Because in no realm was Seattle expected to be here, so why couldn't the Seahawks make a deep postseason run? This is a franchise that's reached the postseason in 10 of Pete Carroll's 13 seasons in charge and in seven of the previous nine trips won at least one playoff game. If QB Geno Smith and Seattle's offense can rediscover the midseason form that led to convincing wins over playoff teams such as the Chargers and Giants, and the Seahawks defense continue its late-season improvement there's no reason why they can't be the latest wild-card team to make a run.
Hold the confetti: San Francisco is a terrible matchup for Seattle. The 49ers overwhelmed Seattle in a convincing Week 2 victory in Santa Clara, and were just as dominant three months later in a Thursday night victory in Seattle. The Seahawks were held to a season-low 216 yards and didn't score an offensive touchdown in the first meeting and didn't fare much better in the rematch, getting its only offensive TD in eight quarters in the closing minutes. Maybe familiarity will play out in Seattle's favor, but there's been little evidence this season of that happening.
"We are going to have to run the football, we are going to have to take care of the ball, we are going to have to eliminate the big plays on the defensive side and give our guys a chance to rush the passer so we can see the pass rush we have been seeing the past month or so and throughout the season." — Carroll.