EMTs demand same pay as other first responders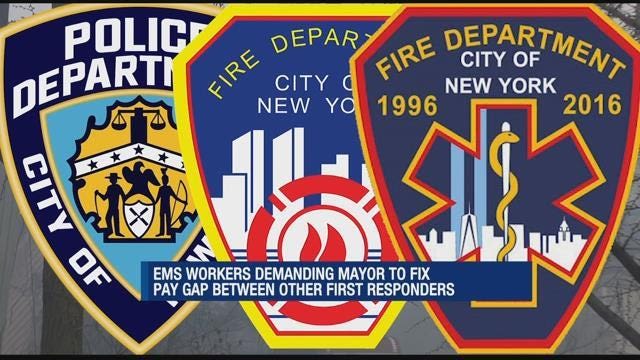 Emergency medical technicians are calling on the mayor to fix the pay gap between themselves and other first responders.
The "EMS Work is Different" campaign started after Mayor Bill de Blasio answered a questioned about the difference in pay between EMTs and other first responders.
"I have deep, deep respect for our EMTs," de Blasio said. "Everyone that works at EMS. I think the work is different. Trying to make sure everyone is treated fairly and paid fairly, but I do think the work is different."
Compared to the NYPD and firefighters, EMTs make about $10,000 less as a starting salary. Over the course of five years, that wage difference gets even wider.
"I make a difference in people's lives every single day for 16 hours a day just to make ends meet, to take care of my own family," said Frank Villa, who has been an EMT for 14 years in the Bronx.
In a statement to News 12, the mayor's office said, "We commend the heroic work carried out by our EMS workers that keep this city safe. We believe in fairness and are committed to providing EMS workers with pay and benefits that are fair and equitable."