Fallen NYPD detective promoted during funeral Mass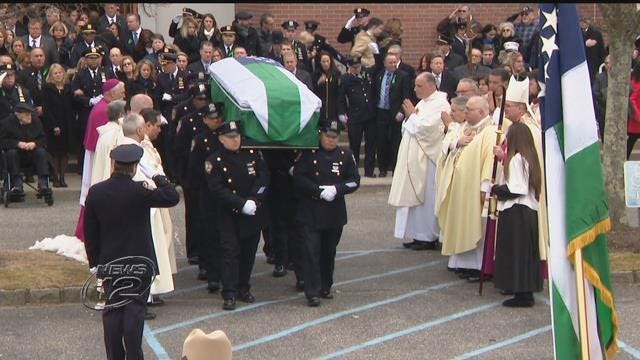 Thousands of people showed an outpouring of love and support in Hampton Bays Wednesday at the funeral of fallen NYPD Detective Brian Simonsen.
During the funeral Mass at Church of St. Rosalie, NYPD Commissioner James O'Neill posthumously promoted Simonsen to detective first class.
New York City Mayor Bill de Blasio pointed out that Simonsen was supposed to have been on his day off when he was killed.
"We all know he could have take that fateful day off," the mayor said. "That's not the human being he was. He felt his neighborhood needed him."
Drone footage over Simonsen's funeral (Credit: Southampton Town Police Department)
In the Calverton, New York, neighborhood where Simonsen lived, the kids called him "Uncle Brian," and friends called him by his nickname "Smiles."
Simonsen and seven other officers responded to an armed robbery call in Queens last week when the suspect, Christopher Ransom, allegedly charged at them with what turned out to be a fake handgun. Forty-two shots were fired, and, when the smoke cleared, Simonsen had been fatally struck once in the chest. His partner, Sgt. Matthew Gorman of Seaford, was hit in the leg and has since been released from the hospital.
"The only two people responsible for Brian's death -- the only two -- are the career criminals who decided to go to that store on Tuesday night and commit an armed robbery," he said.
Simonsen, a 19-year veteran of the force, spent his entire career in the NYPD's 102nd Precinct, where officials say he became a well-liked and trusted part of the community.
Simonsen is being laid to rest in his hometown of Jamesport, close to where his his sister, who died at age 13, and his father are buried. He leaves behind his mother and his wife, Leanne.