Friendly Visiting program for elderly goes virtual, New Yorkers encouraged to participate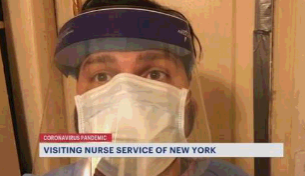 While staying at home during the coronavirus pandemic isn't easy on anyone, the commissioner for the city's Department For the Aging says it's especially difficult for the elderly. 
That's why the department's Friendly Visiting program has gone virtual. 
The program went from about 850 volunteers visiting New Yorkers before the pandemic, to about 1,000 now checking in on those who are isolated at home. 
Volunteer Gabrielle Royal, chats with her older friend Gloria every Tuesday. " We talk about everything under the sun, from Broadway plays, to the things that we are doing before COVID, the complexities and the nuances of dating in New York City, " said Royal. 
She says it's a video chat she looks forward to every week. 
"I get a sense of fulfillment being connected with someone and having that intergenerational conversation," said Royal. 
Royal says she believes all New Yorkers could benefit from this program. 
"Looking forward to having a call with a friend that you have common interests and a similar value alignment with is something that is so critically important," said Royal. 
This is a way to keep minds engaged, bodies healthy, and build relationships in the community that will continue to grow even after the shutdown is over. 
"The goal is to keep those connections going," said Royal.