Cuomo urges NYers to 'stay smart' as NYC enters Phase 1, says 35,000 daily tests will help keep 'close eye' on city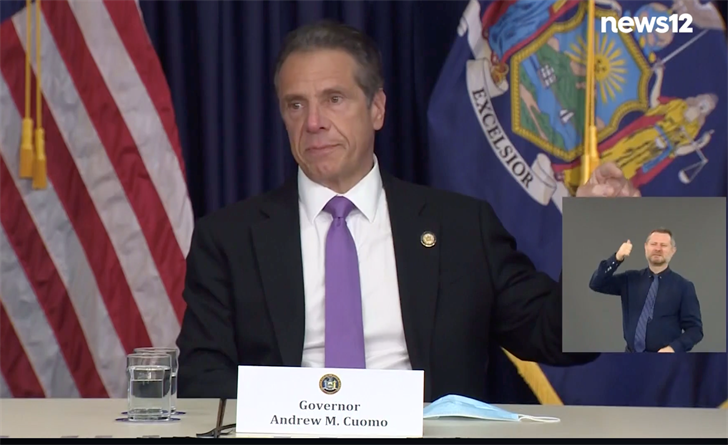 Gov. Andrew Cuomo held his daily briefing Monday on the state's response to the COVID-19 pandemic as New York City heads into its Phase 1 reopening. 
BRIEFING NOTES:
-Gov. Cuomo notes that it's Day 100 since New York had its first case of the virus, and it's also the day that New York City begins Phase 1 reopening. The governor reflected on how he's proud of the way New Yorkers have responded as new facts and data emerged.
-"We're not out of the woods, but we are on the other side certainly," Cuomo says, adding that "New Yorkers always rise to the occasion."
-Cuomo thanks the essential workers who continued to show up despite the dangers they faced -- including police officers, grocery workers, transit workers, health workers and others.
-"We are back... We went from the worst situation in the nation -- frankly, one of the worst situations on the globe -- to not only flattening the curve, but bending the curve," he says. Cuomo notes that NY is continuing its decline while "the rest of the country is spiking."
-The governor spoke about continued protests in response to the death of George Floyd in New York and across the world. He spoke about what he says is a need for reforms to the criminal justice system and to policing. He has proposed a series of actions called the "Say Their Names" agenda. The governor expressed support for the repeal of the 50-A law on privacy for police employees' disciplinary records; for banning chokeholds by law enforcement; appointing the attorney general as a special prosecutor.
-He says his office worked with the Legislature over the weekend and believes they have an agreement on legislation and says he will sign the bills as soon as they are passed.
-Cuomo said that reform needs to come at the federal level and address injustices in multiple areas including housing, etc.
-On COVID-19 testing - Cuomo says more than 58,000 diagnostic tests were performed across the state on Sunday and there were 702 positives for a rate of 1.2% -- the lowest level in New York state since March 16. Nine weeks ago, he says, 59% were testing positive in NYC.
-The governor says the mid-Hudson Region is still on track for Phase 2 on Tuesday; Long Island is on track for Phase 2 on Wednesday.
-Cuomo says other regions have entered Phase 1 successfully and the state knows that the guidelines work if they are followed - so he says New York City must follow the guidelines. He says they will "keep a special eye on New York City" by performing 35,000 daily tests to get a snapshot of how the city's faring.
-Cuomo urges people attending large protests to get COVID-19 testing. "Did that affect the spread of the virus? We don't know, so I'm asking the protesters, please go get a test. It's free, it's available, but there is a chance that you were in proximity to people... One person in a crowd of 100 people can infect dozens," he warns.
-Cuomo says they're also focusing on hot spot neighborhoods in New York City that have seen a "dramatically high" infection rate with more testing, treatment and awareness.
-14 more testing sites are being set up at churches in the city in a partnership with Northwell Health; Cuomo says there are 240 testing sites alone in New York City.
-Cuomo says the state is authorizing local governments to extend the deadline for filing tax abatements by 90 days.
-Cuomo says they will restart elective surgeries and ambulatory care in New York City.
-The governor spoke about safety precautions and disinfection work that the MTA is doing as it ramps up service.
-The governor underscored the need to "stay smart after the reopening" by showing graphs indicated that other states have reopened and seen spikes in cases.
PHOTOS: Countries around the world cope with COVID-19