Gov. Cuomo says 4 more temporary hospitals approved, postpones primary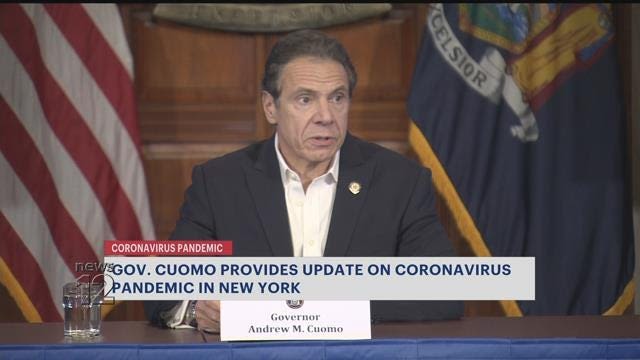 BRIEFING NOTES: 
-New York state now has 52,318 postive COVID-19 cases, with 7,681 new cases. Cuomo says 7,328 are hospitalized and that includes 1,755 ICU patients.
-New York state's death toll is at 728, Cuomo says.
-Gov. Cuomo notes the coronavirus pandemic situation is "disorienting." He says it's been 27 days since New York had its first case.
-The governor says the state is buying bag valve masks for use as backup ventilators, and is considering training the National Guard to manually operate them in place of ventilators - but says they must be operated 24 hours a day for each patient. He says acquiring actual ventilators remain the highest priority, noting of bag valve masks, "If we have to turn to this device on any large scale that is not an acceptable situation."
-Cuomo reiterates that the data indicates that at the high point of the pandemic, the state could need 140,000 hospital beds and 30,000 ventilators.
-Cuomo says the apex of the outbreak is still expected to hit in 14-21 days.
-The governor says that in the short-term, medical facilities have enough PPE but not enough long-term, and he is in talks with the federal government on it. He acknowledged concerns from health care workers on the CDC's guidelines about usage of PPE during a crisis and says the state is reviewing them.
-Cuomo called on local health facilities to work together as a system and relocate patients, share resources, etc., as needed.
-He thanked the Army Corps of Engineers for its "amazing" work to transform the Javits Center in Manhattan into a temporary hospital. It's set to open Monday.
-Cuomo says he spoke to President Trump today, who approved four new temporary hospital sites that will add another 4,000 beds. The sites are at the Brooklyn Cruise Terminal in Brooklyn; the Aqueduct Racetrack in Queens; CUNY Staten Island and the New York Expo Center in the Bronx.
-Cuomo says the state will shift to implement COVID-only hospitals at some locations. They will be better for limiting exposure, he says.
-The FDA has approved the state Health Dept. to work on antibody testing to determine who has already had the virus. 
-Cuomo says the state's presidential primary will be pushed back to June. "I don't think it's wise to be bringing a lot of people to one location to vote," he says.
-Gov. Cuomo says he has not spoken to President Trump about possible quarantine of New York. "I don't know how that would be legally enforceable."
PHOTOS: Impact of the coronavirus outbreak around the world: