Gov. Cuomo says NY regions preparing to 'intelligently' reopen when PAUSE expires, announces 'control rooms' to monitor progress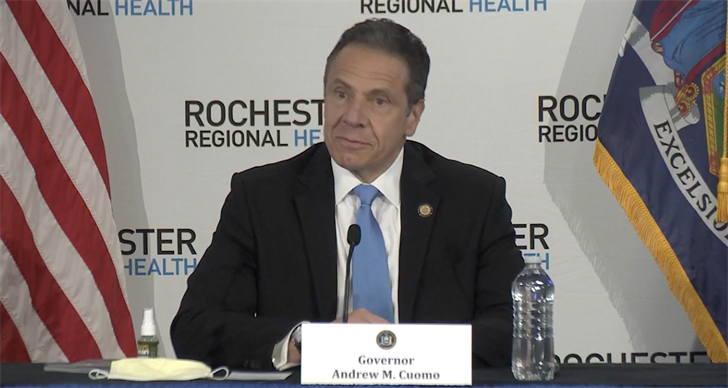 New York Gov. Andrew Cuomo said at a press conference Monday that some regions of the state are close to meeting all the criteria to begin a phased reopening when his statewide NY On PAUSE order expires on Friday.
The Finger Lakes region in particular has met all the criteria, and other regions are "close" but will need to finalize logistics before Friday, Cuomo said.
Cuomo announced "regional control rooms" that he says will monitor the progress as parts of the state begin to roll back restrictions. The reopening will be done in phases, and if indicators such as hospitalizations or the COVID-19 infection rate begin to climb, he says the control rooms will adjust and respond.
The first phase of reopening will include low-risk construction and manufacturing where density can be avoided, the governor said. "We start with businesses that are more essential and pose a lower risk," he said.
The governor also announced Monday that low-risk activities will start to resume on May 15, including landscaping and gardening, drive-in movie theaters, and outdoor, low-risk recreational activities like tennis.
Cuomo held the news conference as he visited Rochester Regional Health's Riedman Campus Training Center. 
BRIEFING NOTES:
-Gov. Cuomo says New York needs to get the federal government to realize that it needs to fund states and not just corporate America. He says "hopefully" that will get done this week with help from the House leadership.
-"We start a new chapter today in many ways, it's a new phase, if you will," Cuomo says, noting that May 15 at the end of the week is the end of the statewide PAUSE order and will shift to focusing on making sure localities are ready to reopen.
-Total hospitalizations are down again, intubations are down again as well.
-161 lives were lost in the past 24 hours. "Still too high -- but better than it has been," Cuomo says. 
-New hospitalizations are down to levels not seen since March 19.
 -"We're on the other side of the mountain," Cuomo says, adding that we've turned the corner and we're just about where we started before the virus outbreak in the state began to rapidly spread.
-"Now we can intelligently turn toward reopening," the governor says, adding that local governments and people should prepare.
-Cuomo outlines the 7 metrics that a region has to meet to reopen, including a  14-day delcline in hospitalizations, a 14-day decline in hospitalized deaths, and other criteria.
 -Cuomo's data shows that the Finger Lakes region has met all of the criteria so far to reopen. Some regions are "very close," including Central New York. 
-"We're talking about a phased reopening," Cuomo underscores, and outlined some of the industries and businesses that will be included in each phase. "We start with businesses that are more essential and pose a lower risk," he says.
-The phases will be monitored all along. Gov. Cuomo outlined some of the safety precautions that businesses will need to take to reopen safely.
-Low-risk activities will start to resume on May 15, including landscaping and gardening, drive-in movie theaters, Cuomo says, along with outdoor, low-risk recreational activities like tennis.
-Local officials in the state will need to make sure adequate testing/tracing is in place, and must monitor the infection rate with hospitals. They'll need to ensure business compliance with protocols, and must communicate with other local governments.
-Each NY region will have a "Regional Control Room" that will "monitor progress and have a circuit breaker ready" in case there is a surge in cases so that regions will be in a position to respond.
-Today Cuomo says New York is announcing the members of each of the "Regional Control Rooms," which have been assembled over the past few weeks. 
-"This is the next big step in this historic journey," Gov. Cuomo says. He says the first phase was a scramble to "deal with a situation that dropped from another planet," with an effort to stabilize, ramp up the health care system, inform people, and control the damage. "We're now on the other side of the mountain; next step, how do we reopen intelligently and how do we reopen without taking a step back?" he says.
-Looking back at the trajectory of the virus, Cuomo says New York was at a "very, very bad place" but averted the worst possible outcome. 
-In the next phase, Cuomo says New York must learn from the "mistakes" of others regions in reopening, including poor coordination, or not following the CDC's basic health guidelines.
-Cuomo says the plan for reopening is being shared online and is printed in a booklet titled "NY Forward." 
-Cuomo says there are 93 cases of COVID-19-related illness under investigation in children and young people. 
-Asked how long each of the phases of reopening will last, Cuomo says it will be determined by the facts on the ground, including infection rate, hospitalization rate, etc., as reopening progresses. If any of the indicators head into the "red zone" regions will be able to respond by their "regional control rooms."
PHOTOS: COVID-19 impacts countries around the world