Gov. Cuomo: Projection shows apex of COVID-19 hospitalizations is starting to plateau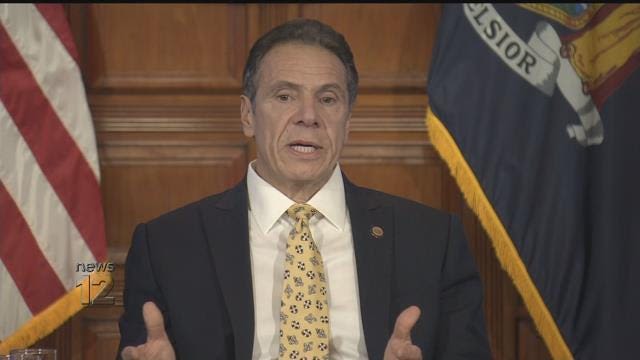 Gov. Andrew Cuomo says that projections show that the number of COVID-19 hospitalizations are beginning to plateau despite the state seeing the single greatest increase in death in a 24-hour period.
On Monday, there were 731 deaths in New York. A total of 5,489 residents have died so far – stats that Gov. Cuomo said was impossible for New Yorkers to be numb to.
However, he says social distancing is working and the numbers are beginning to prove it. He says that the number of hospitalizations is "starting to flatten" and ICU patients is "way down."
"This is not an act of God," said the governor. "It's an act of what society actually does."
PHOTOS: The world copes with the COVID-19 pandemic
Gov. Cuomo says an influx of 7,000 hospital workers have been hired, some of them out of retirement, to give relief to health care staff "overworked" and "overstressed" by the pandemic.
He said that New York, New Jersey and Connecticut will be working as a cooperative when it comes time to restart the local economies. But the governor stressed that for that to happen, rapid testing must be put into place on a large scale. He is asking private companies to come forward who may be able to produce a rapid test by calling 212-803-3100 or emailing
COVID19supllies@esd.ny.gov
.
Wrapping up his remarks, Gov. Cuomo said that the coronavirus has been "so disruptive" for the last 37 days, but urged residents to remain vigilant and to continue to socially distance.
"It is about we, not about me," he said. "My health is your hands and your health is in my hands."
PHOTOS: Heroes on the front lines work through the COVID-19 outbreak
Notes from the news conference:
Gov. Cuomo: "We are projecting that we are reaching a plateau in the total number of hospitalizations...it's starting to flatten."
"This is still a projection. It still depends on what we do...This is not an act of God. It's an act of what society actually does."
Gov. Cuomo says that "change in daily ICU admissions is 'way down.'"
5,489 New Yorkers have died. There were 731 deaths in New York on Monday, the largest single-day increase in the state so far.
The nation has 374,371 total cases of COVID-19 - 138,863 cases in New York.
Gov. Cuomo: Up to 90,000 available beds in the state. Health care staff has been a problem. They are getting sick. They are overworked. They are overstressed. 7,000 new hospital staff have been hired from a pool of potential employees.
"We are working on a tristate cooperative" to work on a regionwide plan to "restarting life." The governor says it all comes down to testing.
NYS Department of Health approved anti-body testing. If FDA approves test, "we can begin bringing it to scale." 
"We are interested in working with private companies who can bring rapid testing to scale. Private companies that are interested can call 212-803-3100 or email COVID19supllies@esd.ny.gov.
Gov. Cuomo says we need federal assistance to restart the New York economy and the next federal legislation must remedy the previous inequities. It has to be a federal stimulus bill that focuses on local economies.
Gov. Cuomo on social distancing: "My health is in your hands. Your health is in my hands."