Hurts, Eagles soar into Super Bowl, rout 49ers for NFC title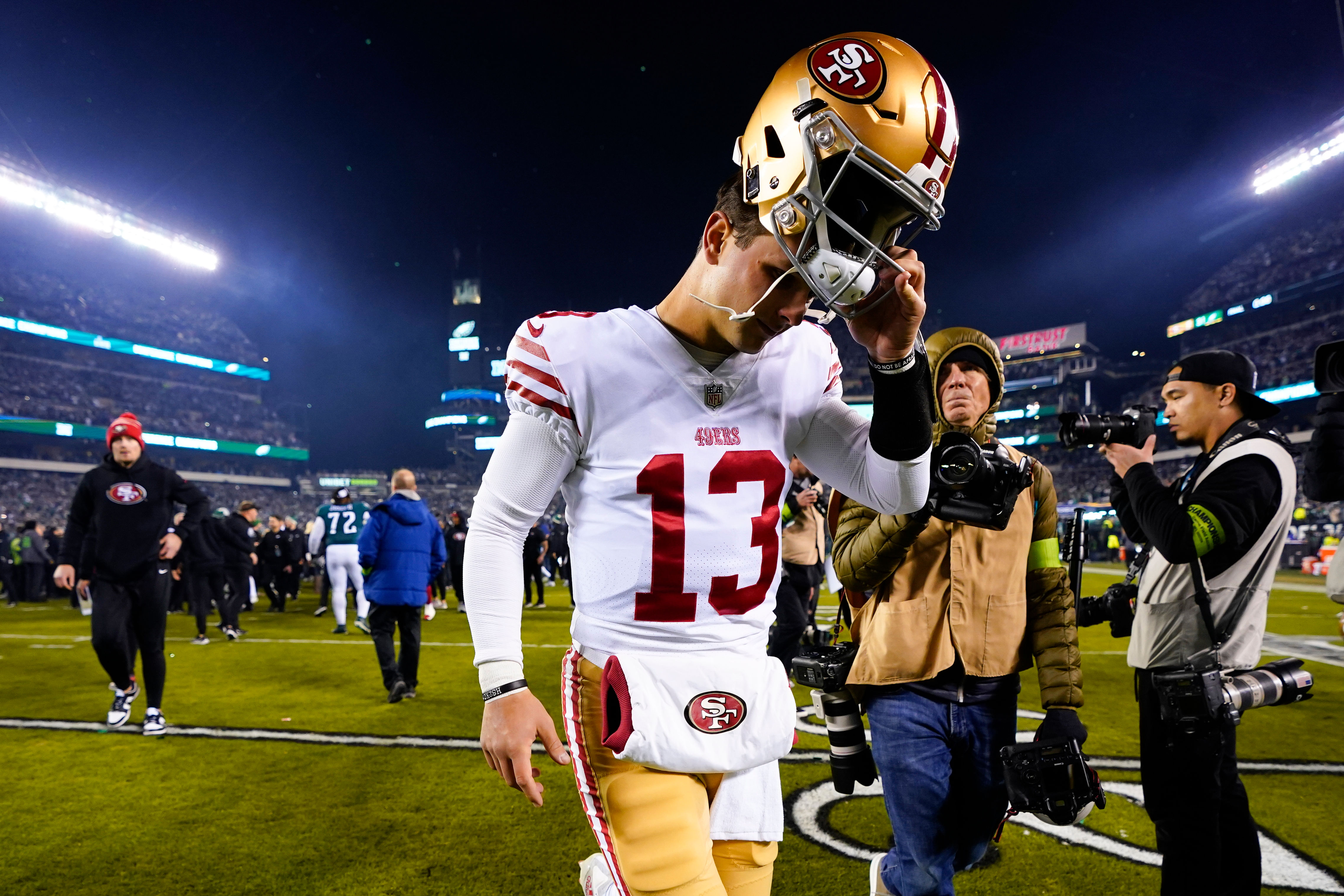 Jalen Hurts had one of Philadelphia's four rushing touchdowns and the Eagles soared into the Super Bowl, forcing both of San Francisco's quarterbacks out of the game with injuries and beating the wounded 49ers 31-7 in the NFC championship game on Sunday.
The Eagles, who won the Super Bowl five years ago with a different coach and quarterback, will try to do it again behind the formidable duo of Hurts and coach Nick Sirianni. Philadelphia will play either the Cincinnati Bengals or former Eagles coach Andy Reid's Kansas City Chiefs.
"Obviously this is something you dream about as a kid. All these guys on the team have dreamt about this their entire lives, too," Sirianni said. "Just to be able to do this together with a bunch of men that love each other, that are connected to each other, that will do anything for each other is pretty sweet."
Miles Sanders ran for two touchdowns and linebacker Haason Reddick made the hit that forced 49ers rookie quarterback Brock Purdy out of the game with an elbow injury. Reddick also recovered a fumble by Purdy's replacement, Josh Johnson, who later suffered a concussion.
That forced Purdy back into the game, but his injury was clearly a factor as the 49ers all but gave up on throwing the ball, even while trailing by multiple scores.
San Francisco's bad luck at quarterback was finally too much to overcome as its 12-game win streak ended. The Niners lost both Trey Lance and Jimmy Garoppolo to season-ending injuries, and Purdy - the final pick in April's draft - lost as a starter for the first time.
Philadelphia police greased traffic and light poles in what has often proved a futile attempt to slow the revelry ahead. But a city that has been starved for a championship now has its beloved Birds in the Super Bowl just three months after the Philadelphia Phillies reached the World Series.
"You see this city and the passion they have for this team. We're so appreciative of these fans," Sirianni said. "Look at this place. There's no place like this in the NFL. It's a hard-working city, it's a blue-collar city. We think that's the type of team we have."
The game disintegrated in the waning minutes and Philadelphia's K'Von Wallace and San Francisco's Trent Williams were ejected for their roles in a brawl. Williams yanked Wallace from behind and slammed him to the ground.
At that point, who cared? Eagles fans waved their green towels and went wild as confetti fluttered around them. They sang the fight song - one more emphatic "E-A-G-L-E-S Eagles!" - in celebration of a franchise that advanced to its fourth Super Bowl.
The Eagles broke the game open in the final two minutes of the first half, getting a rise out of a crowd that had been quiet with nervous energy since a touchdown on the opening drive.
Sanders broke free for a 13-yard run for a 14-7 lead, concluding a 14-play, 75-yard drive extended by three 49ers penalties.
Johnson bobbled a shotgun snap and fumbled on the next drive, and Reddick - the free-agent pickup from Carolina having one of the great defensive seasons in franchise history - recovered at the San Francisco 30. Boston Scott scooted 10 yards for a touchdown and 21-7 lead.
Even with Hurts almost a non-factor - he had 97 yards passing in the first half - the Eagles were firmly in control. Hurts finished 15 of 25 for 121 yards. His 1-yard rushing touchdown on Philadelphia's signature rugby-style QB sneak made it 28-7.
"It's been a lot. I'm not going to make this about me," Hurts said. "This city is a special city. They deserve everything, It's a special city. We have one more."
Purdy left the game with an elbow injury after he was drilled in the arm by Reddick on San Francisco's first drive, leading to a fumble. The 23-year-old Purdy's improbable rise from "Mr. Irrelevant" to playoff starter ended with a whimper as he failed to become the first rookie QB to lead a team to the Super Bowl.
He was improbably needed again in the third quarter after Johnson, a journeyman backup signed in December, was also hurt.
The Eagles used quick thinking as they scored on their opening drive for the second straight playoff game. DeVonta Smith made a sensational one-handed grab for 29 yards, but replays showed he appeared to lose control of the ball as he hit the ground. Smith popped up and frantically waved the Eagles to the line. Niners coach Kyle Shanahan did not challenge the call and the Eagles got off the next play. Sanders scored on a 6-yard run.
With little hope they could get anything going behind Johnson, the 49ers turned to Christian McCaffrey to get on the board. He broke three tackles on a 23-yard touchdown run that made it 7-7 in the second quarter.
With no quarterbacks who could throw, that was about the end for Shanahan's Niners, who managed 164 yards of offense and 11 first downs.