Judge exits early at site of No. 62 as Yankees win in Texas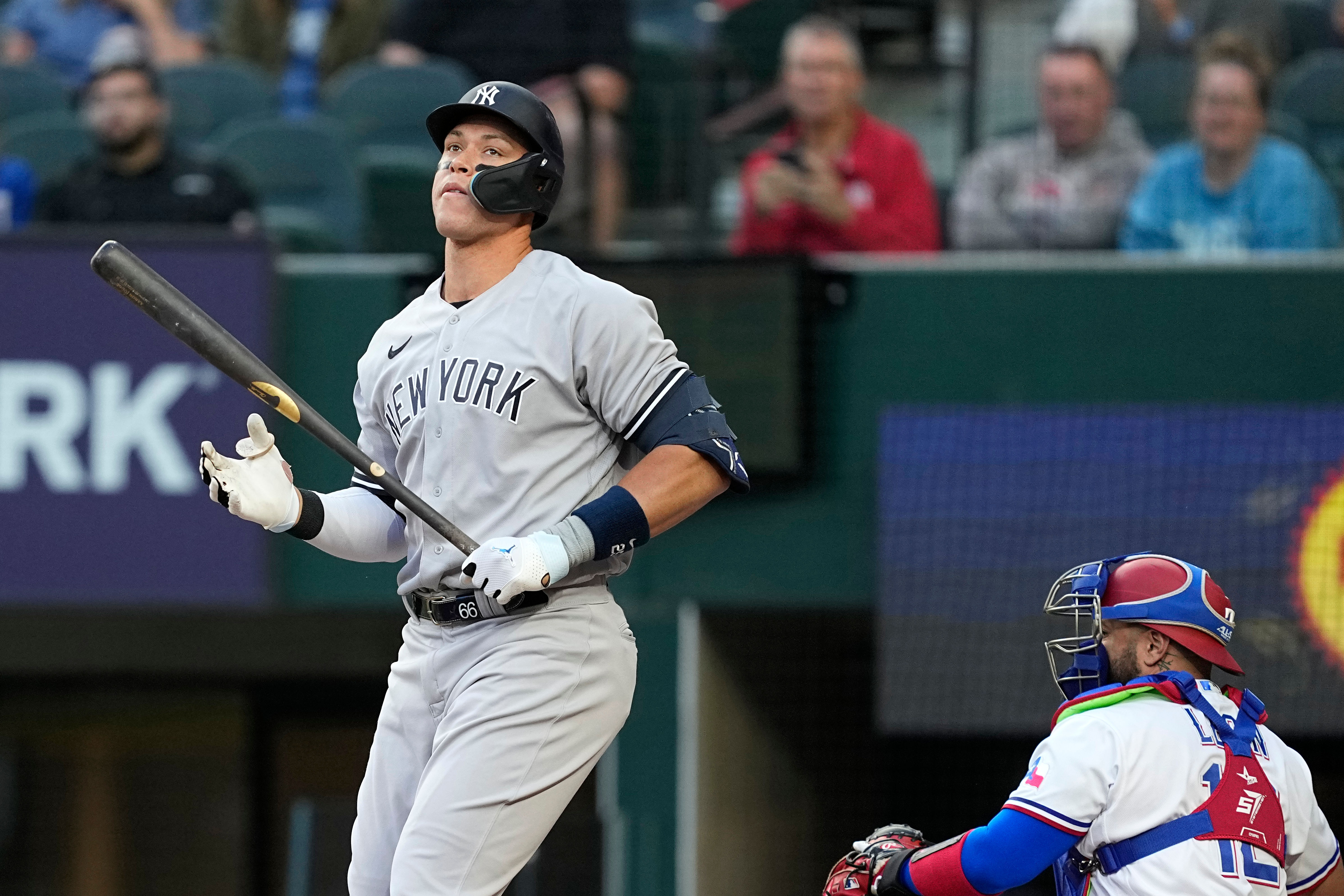 New York Yankees star Aaron Judge was back in the stadium where he hit his record 62nd homer, though there was uncertainty instead of celebration when he left early this time.
"Just a little grab in the hip area. After that headfirst dive the other night, just kind of whole right side has been a little locked up," Judge said. "It wasn't until the second-to-last swing of that at-bat I felt something grab, and they thought it would kind of best just to shut it down and see how we feel after a couple of days."
The return to Globe Life Field came a day after Judge jammed his right hand on an awkward slide while trying to steal a base in Minnesota. Judge had three hits and drove in three runs in that game on his 31st birthday.
Judge said when he woke up Thursday, he felt "a little bit more of what happened." He said he could just never get loose after the culmination of that tumble and some swings before and during the series opener in Texas.
Manager Aaron Boone said he noticed something was off when Judge batted for the second time, and wanted to get him out of the game. Judge said he felt OK after some swings in the batting cage, but there was no need to push it in that situation.
Judge will be re-evaluated Friday, though Boone said there initially were no planned tests.
Before the game, Judge said his biggest memory of the night he hit No. 62 really wasn't the ball disappearing into the left-field seats.
"Relief that it was over," said Judge, who homered leading off that game, then got one more at-bat before Boone pulled him and let him come off the field to a rousing ovation.
"Stand up in front of the team and address them and talk to them and say your thoughts and what's on your mind, it's always a special moment," Judge said. "I think that's more important to me than anything that kind of really happened on the field that day."
Fittingly enough, Cole started for the Yankees on Thursday, when he extended his career-long scoreless streak to 25 2/3 innings before giving up two runs in the sixth. He struck out eight in 6 2/3 innings.
Boone fondly recalled the reaction of Judge's teammates when he led off the nightcap of a doubleheader with the homer. That was the 55th game in a row Judge had played during his chase for the record, and came in the sixth game after his 61st homer matched Maris' AL mark that was set in 1961.
"I thought it was a homer off the bat, but it wasn't like an absolute no-doubter, so you're watching it, and then see it go over the fence and see his teammates react," Boone said. "It was one of those great moments that I'll experience in my career to get to be here and be a small part of it and witness it."
While Judge acknowledged the 62nd homer in Texas will always be a great memory, he said it's not something he has reflected on too much. He went from the home-run chase to the playoffs last October, and then free agency in the offseason before 
signing a $360 million, nine-year contract with the Yankees
.
"I've got this season to deal with," said Judge, who has played in all 26 Yankees games and is hitting .261 with six homers and 14 RBIs. "We'll reflect when I'm about 40 or 41, and then we'll talk about what it means."
Asked what he learned about himself during record chase last season, Judge initially repeated the question.
"What did I learn about myself ... that's a good one," he said. "I haven't really thought about that, you know, because I was so focused on what I've got to do for the team and focus on today. You know, block out the distractions. I really didn't think about myself too much."
Even when all of the attention was on him.
___
More AP MLB: https://apnews.com/MLB and https://twitter.com/AP_Sports