Jumaane Williams - It's Time Let's Go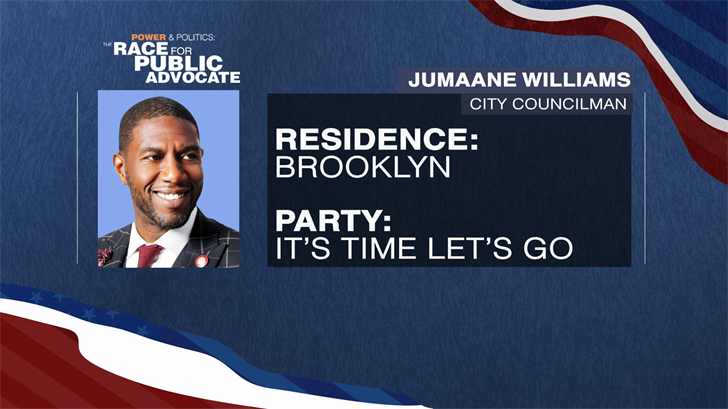 Name:Jumaane Williams
Party Name: It's Time Let's Go
Current Occupation: NYC Council Member
1.What would be your top priority as NYC Public Advocate?
I believe one my top legislative priorities is to address our city's growing affordable housing crisis. As Public Advocate, I will work the Council to ensure the Council & the Mayor use all the tools available to make this city more affordable, equitable and just for all. If and when that does not happening, my office would call those deficiencies out and work toward immediately correcting them through the proper channels. I believe the office is tailor made for someone who has demonstrated they can effectively be both an activist and an elected official without compromising either assets. As a longtime housing advocate and NYC Council Member, I have proven that I can be both and have the track record in getting things done.
2. How did you chose your party name?
It's one of our campaign slogans. It's time, let's go!!
3. What do you love about living in New York City?
The diversity of people and cultures that make New York City unlike any city in the nation.
4. What's your least favorite thing about living in New York City?
#CuomosMTA
5. What was your biggest challenge in school?
As a public school graduate from preschool to Masters, and having Tourette's Syndrome and ADHD, I believe it's critically important in a city so diverse to ensure public schools have the proper resources to serve all students. New York City's schools should get the money they are owed, and more must be done to hold the Department of Education accountable to ensure our public schools are fully funded. I also support the campaign for fiscal equity, municipal control over mayoral, and believe the New York City Council should have advice and consent over the Chancellor.
6. How do we fix public transit?
In #CuomosMTA, New Yorkers are losing. One of my top legislative priorities is to bring transparency and accountability to our government, which includes fixing the MTA crisis. I support both a millionaire's tax and congestion pricing as part of this effort, and believe we must ensure that workers receive fair wages by making the proper investment into creating a better functioning subway system.
7. If you could have dinner with any celebrity dead or alive, who would it be & why?
Congresswoman Shirley Chisholm is someone who will always have my admiration for her "unbought" and "unbossed" brand of leadership. I am blessed to represent the overlapping district in the Council and, in her legacy, can understand exactly why she is beloved. Throughout my career, I have prided myself in speaking truth to power, without regard to the political implications therein. Of the many people who have taught me to do so, including my Mother, there is no doubt that Congresswoman Chisholm tops the list.
8. What needs to be done to improve conditions at NYCHA complexes?
As the city's next Public Advocate, I would conduct investigations into the work performed by NYCHA inspectors to ensure NYCHA tenants are living in properly maintained, healthy homes, while using the office's bully pulpit to continue to shine a light on the significant issues NYCHA faces. I would also bring lawsuits against the Authority to compel their accountability for decades of neglect and mismanagement of public resources.
9. Can you cook? What's your specialty?
I am not very good cook, but my favorite food is oil down.
10. What inspired you to get involved in politics?
I've always wanted to create transformational change, and my first election was running for student body President at Brooklyn College, but I lost. Later on in life when I started as a tenant organizer, I realized I could make a real difference as a Council Member.
11. What's your favorite movie? TV show? App?
Black Panther, Walking Dead, Twitter
12. Any hidden talents?
I love to sing, sometimes loudly. Apologies to my council neighbors. Hold off on those noise complaints!