Mayor de Blasio: New York City COVID-19 cases reach 20K, 280 deaths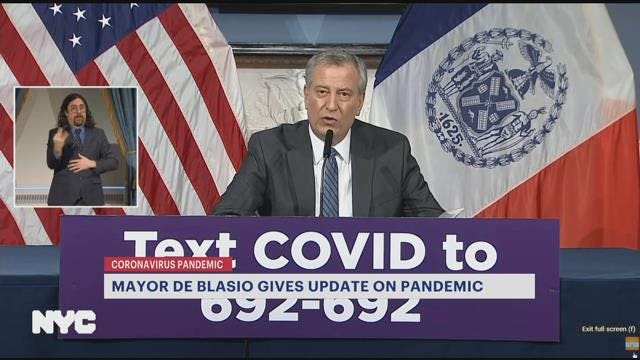 UPDATES FROM MAYOR BILL DE BLASIO FROM MARCH 25 COVID-19 BRIEFING
The mayor says there are 20,011 positive COVID-19 cases in New York City. 
The death toll from COVID-19 cases in New York City is 280. 
Mayor Bill de Blasio says he believes "April is going to be tougher that March, and I think at this point, May could be even tougher than April."
"People need to be ready for that."
"The notion that everything might be fine by Easter, I don't know where on Earth that idea comes from."
The goal for New York City is 15,000 ventilators. The mayor says they are one-sixth of the way there.
"If the military is not mobilized on a higher level, I can't see a scenario where supplies, equipment, personnel, get where they need
to go here in New York City in time."
De Blasio blasts Senate Majority Leader Mitch McConnell for depriving "our state with the money we need" in stimulus package. "Giving New York City $1 billion out of $150 billion pool...we are one-third of the cases in this country right now. Someone do the math down in Washington."
The mayor says he will call President Trump to fix stimulus package and "address this problem immediately."
Mayor de Blasio also announced that regional enrichment centers would expand education and child care to more families. They will include the children of essential grocery store staff, pharmacy workers and others. Previously, it was only for the children of health care staff and other essential workers.
200 inmates who committed low-level offenses will be released from NYC jails by Wednesday night. More will be released on Thursday. 
"It is very easy to feel alone in a situation like this...you are not alone." The mayor says stepping up during tough situations is a "New York tradition."