Mayor de Blasio warns New Yorkers to stay the course of social distancing as weather warms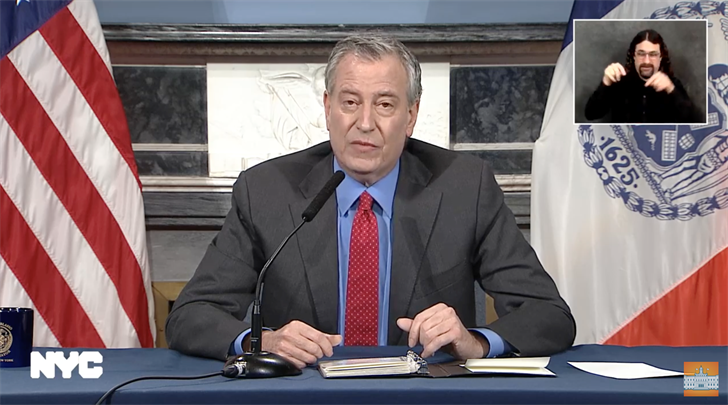 Mayor Bill de Blasio gave an update Sunday morning with the latest on the COVID-19 pandemic in New York City. 
BRIEFING NOTES:
-The mayor starts by saying that the city is finally experiencing warmer spring weather. He says city residents must remain disciplined as the fight against COVID-19 continues.
-The mayor applauds New Yorkers for their aggressive distancing efforts to beat back the virus. "Now you're facing a new test -- got to do it even more because it's going to be even harder on us during the nicer weather," de Blasio says.
-"Do not underestimate our enemy. This is a horrible disease, we've seen the toll it's taken," he says. "Let down your guard and this disease comes back with a vengeance."
-He says that when city residents take precautions by wearing masks and maintaining distancing, they are not only protecting their families and themselves, but also the front line health workers.
-Mayor says the city has added over 1,400 volunteer health care workers as of today to go to the front lines in some of the hardest hit areas to help save lives. Some are from the city, while others are from other parts of the country. 
-The mayor says the city needs people who have tested positive for COVID and recovered to give blood. He says the plasma in the blood of recovered patients can help others, and a number of the city's hospitals are doing trials with promising results so far.
-De Blasio warns that NYPD and parks officers will be stepping up enforcement of social distancing as the weather improves. He says people will get warnings, but could face fines of $1,000 if they don't take it seriously.
-He encouraged people to report gatherings and social distancing failures by calling 311 or taking photos. "It's not snitching," it's saving lives, the mayor said.
-The data from the past two days have shown mixed results, with hospitalizations up but people admitted to ICUs down.
-The mayor addressed President Donald Trump, accusing him of failing to protect his former home city of New York. He says the city needs stimulus help from the federal government as it faces both the COVID crisis and ensuing fiscal crisis. As talks in Congress continue, he says President Trump could solve the issue with a snap of his fingers but has been silent.
PHOTOS: Countries around the world cope with COVID-19