Michael Blake - For the People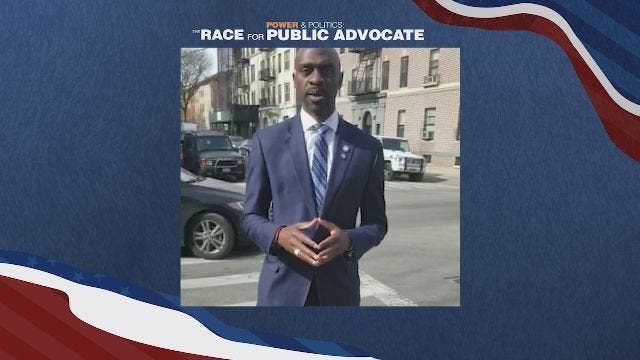 1. What would be your top priority as NYC Public Advocate?
My top priority as Public Advocate will be improving Public Transportation and Affordable Housing. We are all sick and tired of the busses and trains always late. We also deserve safe, affordable and quality housing. For these reasons, I believe that the Public Advocate should have a seat on the MTA board to be the people's voice. In addition, I will introduce legislation to rescind J51 tax credits from any landlord who is not implementing rent stabilization, hold N.Y.C.H.A. staff accountable to provide heat, hot water and getting rid of the lead. Quality transportation and housing are basic human rights.
2. How did you choose your party name?
It is important to always remember what inspires me to do the work - FOR THE PEOPLE. I am running to fight for Jobs and Justice #FORTHEPEOPLE.
3. What do you love about living in New York City?
I love that I was born and raised in The Bronx - the diversity of our city provides an energy that is unmatched. I love it because it shows that while we come from many different backgrounds, we are still one people. The food, the music, and the culture provide an experience unparalleled by any other city in the world.
4. What's your least favorite thing about living in New York City?
The busses and trains are constantly late.
5. What was your biggest challenge in school?
Standardized exams were my biggest challenge in school. Despite excelling as a student, I struggled with standardized tests. To this day, I believe that the current state standards do not give students the opportunity to adequately demonstrate what they've learned and we need to consider a more comprehensive evaluation process.
6. How do we fix public transit?
As Public Advocate, I will demand a permanent seat on the MTA Board where I will be able to pursue immediate fixes to train and bus delays, reject unnecessary and costly construction proposals and fight fare increases because of inadequate service, and identify underserved areas for transit investment.

Transportation is about more than getting from one place to the next. Just about getting from one place to another. It is about getting to your first day at a new school or a new job on time. New York subways are failing us and that is unacceptable.
7. If you could have dinner with any celebrity dead or alive, who would it be & why?
Muhammad Ali. He is the epitome of professional excellence combined with social activism.
8. What needs to be done to improve conditions at NYCHA complexes?
We need Public Advocate who will demand accountability, transparency, and progress throughout New York City's Public Housing Authority. I will monitor and fight any efforts that might privatize public housing, endangering affordable housing for NYCHA residents. I will also fight for greater transparency of NYCHA work orders, progress, and completion data so that we can all celebrate progress and hold NYCHA accountable where residents are waiting too long for repairs. As Public Advocate I will create a NYCHA Advisory Committee to elevate systemic issues and suggest solutions that will enable the Public Advocate to ensure the needs of Public Housing residents are met.
9. Can you cook? What's your specialty?
Yes, I can cook. My specialty is Brown Stewed Chicken and Rice and Peas - that's the Jamaican in me!
10. What inspired you to get involved in politics?
My political passion started from the beginning: my name. I am named after two Jamaican politicians - Michael Manley and Alexander Bustamante. My mother raised four boys while working at a manufacturing factory while my late father was a janitor and a proud member of 1199SEIU. Through my parents, my lay ministry in the church, and my internships, I always have had a passion to want to help people. But the turning point was my near fatal car accident in 2001 when I fell asleep at the wheel. That moment made me realize that I had to follow my passion because no day is promised and we must do the most we can with what we have been given.
11. What's your favorite movie? TV show? App?
I can't pick just one, my favorite movies are The Dark Knight series, Glory, Ali, and The Pursuit of Happiness. My favorite show is The Blacklist. And my favorite app is the Big Ten Network so I can watch Northwestern University sports. Go Wildcats!
12. Any hidden talents?
I love to bowl, and, I'm a fairly decent second bass due to my deep voice.