Mother says police officer groped her teenage daughter after wrongfully arresting her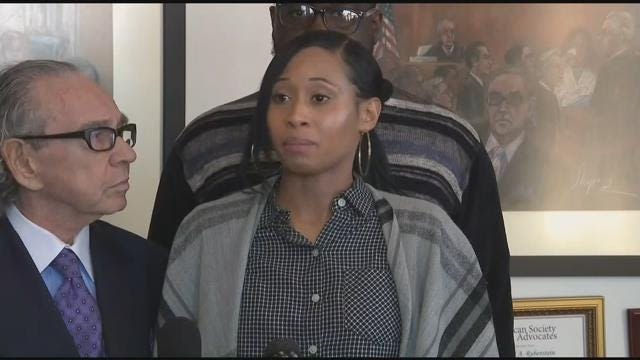 Two notices of claims were filed on behalf of a mother and a daughter after they say they were wrongfully arrested, and traumatized by their experiences, with officers at the 43rd Precinct.
Nykesha Johnson says her 14-year-old daughter was near the Sotomayor Houses on Nov. 29 when she was wrongfully arrested.
"They chased her around the projects, handcuffed her," said Johnson.
Johnson says that on the ride over to the 43rd Precinct, while her daughter was handcuffed in the back of the patrol car, the officer sitting next to her touched her.
"The officer started groping on her. The left side of her butt up to her breast," said Johnson. "She said 'Stop doing that, that's inappropriate,' and he said 'I can do whatever I want,' and was yanking on my daughter like a rag doll," said Johnson.
When Johnson went to pick up her daughter at the precinct, she says officers told her that her daughter would be released after signing some paperwork. She says the situation quickly flipped.
According to the notice of claims, Johnson was then wrongfully arrested for trespassing. Both of them were held in custody for hours, arraigned and then released on their own recognizance.
Johnson stood alongside her attorney Sanford Rubenstein on Christmas Eve, nearly a month after the incident. Rubenstein and civil rights advocate Kevin McCall are demanding a criminal investigation into the officer who allegedly groped Johnson's daughter.
Johnson says her daughter hasn't been going to school and is receiving counseling. The notice of claims is for a total of $4 million in damages, as Johnson and her daughter recover emotionally.
A spokesperson for the NYPD tells News 12 they will review the lawsuit if and when it is filed. The Bronx District Attorney's office tells News 12 they have no comment.