Neighbors: Tractor-trailers taking up parking in Pelham Bay Park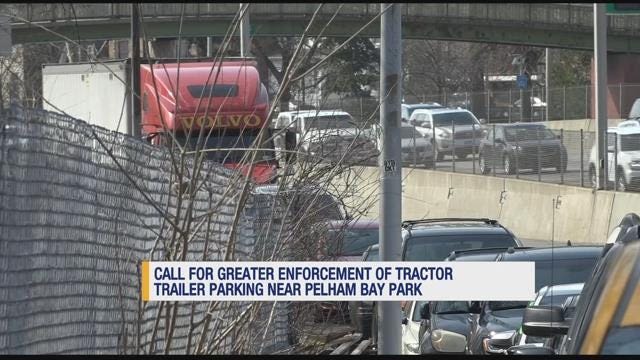 Residents say a plethora of tractor-trailers are taking up parking in Pelham Bay Park as the weather gets warmer.
They say that on the weekends, it's not uncommon to see more than a dozen 18-wheelers lined up alongside the park on Bruckner Boulevard Service Road North between Middletown Road and Wilkinson Avenue.
Former city Councilman James Vacca says the trailers park overnight, sometimes from Friday evening until Monday morning.
Vacca says the police have handed out tickets to trailer drivers when he's called, but the 18-wheelers should be booted if they violate the law.
Some residents say they have trouble finding parking space because of the trailers.
News 12 did not see any signs prohibiting parking for trailers or vehicles in general on road. The DOT's website states that commercial vehicles are not allowed to be parked in any area, including residential ones, for more than three hours.
It also says a commercial vehicle cannot be parked on a residential street between 9 p.m. and 5 a.m.
The DOT says the enforcement of tractor-trailer regulations is up to the NYPD. The NYPD tells News 12 it has been enforcing the laws by handing out 265 tickets within the 45th Precinct for nighttime parking of commercial vehicles since the start of 2019. Police say it's 180 more tickets handed out at this time last year.
One tractor-trailer driver who spoke with News 12 acknowledged the issue but said drivers have few other options.
"I'm not saying it's right, but where can we park?" said Eric Demoya, who drives for Ace transportation.
He says he gets about five tickets a month for parking his rig on the Bruckner service road, but says he keeps parking there because there's nowhere else to go.