Nimmo gives Mets 4-3, 10-inning win over Yanks on night of mental, physical errors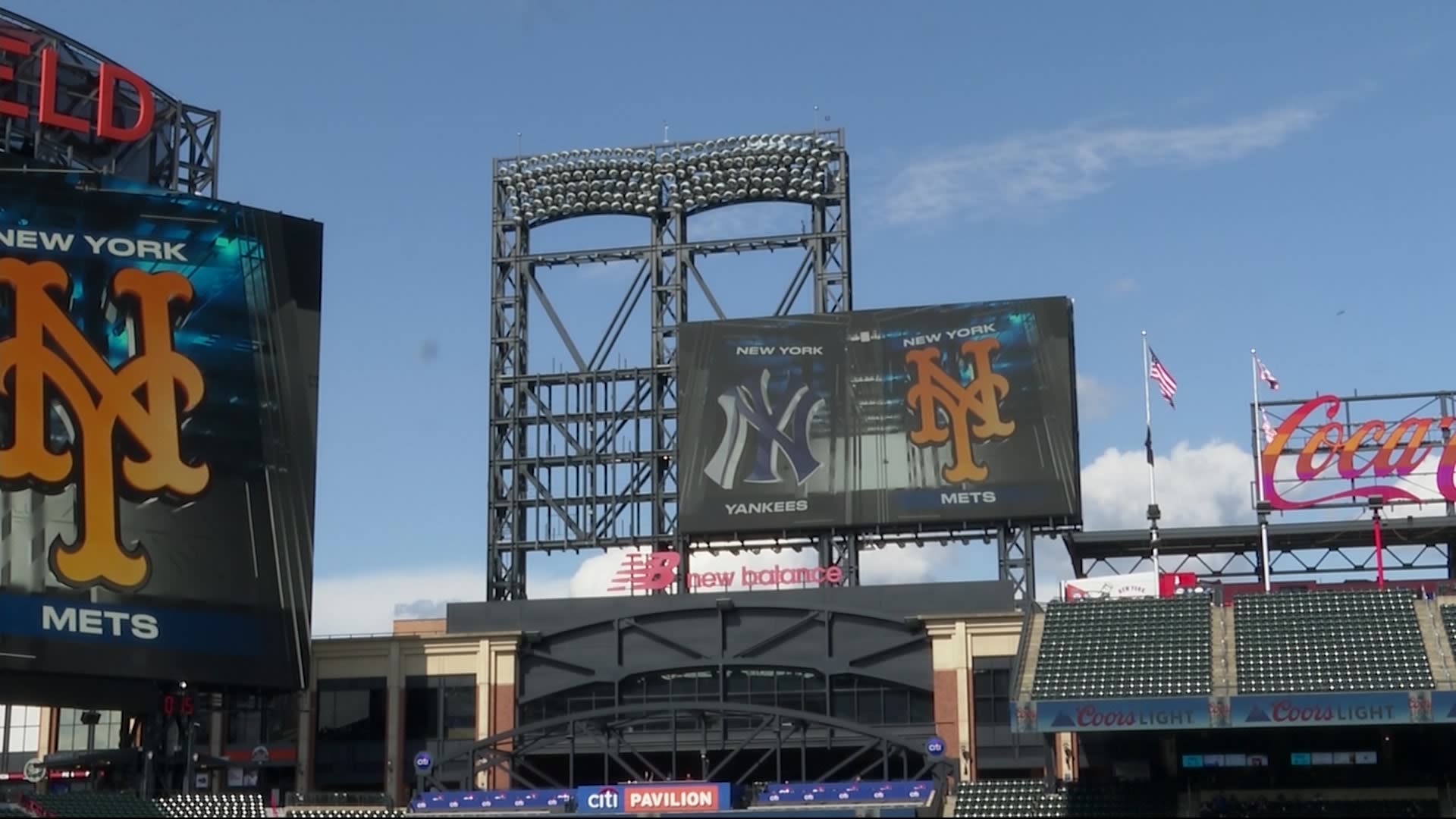 Brandon Nimmo hit a game-ending double in the 10th inning and the New York Mets recovered from a string of mental and physical errors to beat the New York Yankees 4-3 on Wednesday night for a two-game Subway Series split.
Isiah Kiner-Falefa stole home off an inattentive Brooks Raley as the Yankees scored two runs without a hit to take a 3-1 seventh-inning lead.
The Mets tied the score in bottom half when Ron Marinaccio hit Nimmo with a pitch and Starling Marte hit an RBI single - a rally that ended when Nimmo took a wide turn at second and was thrown out.
Then in the 10th, with Eduardo Escobar the automatic runner at second, Albert Abreu (2-2) struck out Mark Vientos. Nick Ramirez relieved and Nimmo hit a drive over Jake Bauers and off the wall in right-center. Escobar tagged up and sprinted home with a headfirst slide, giving the $355 million Mets just their second victory in 11 games and third walk-off win this season.
On a night when the Yankees' Gerrit Cole and the Mets' Justin Verlander combined to allowed two runs in 12 innings with 14 strikeouts and no walks, the game was decided against the bullpens.
Dominic Leone (1-2) got his first win since joining the Mets last month.
The Mets made two errors and committed only the second shift violation in the major leagues this season.
With the score 1-1, Jeff Brigham walked Josh Donaldson leading off the seventh and Anthony Rizzo was hit by a pitch for the 209th time in his big league career. Kiner-Falefa hit a one-out grounder to shortstop, and second baseman Jeff McNeil made an offline throw up the first-base line that bounced off the mitt of a diving Vientos with IKF already across the bag. Donaldson scored for a 2-1 lead.
Raley relieved and Kiner-Falefa stole second on a 1-1 pitch to Billy McKinney, advancing to third when Francisco Álvarez's throw skipped into center for an error. Kiner-Falefa crept down the third-base line and Raley never looked him back. With Raley pitching from a full windup instead of the stretch, IKF was halfway home as Raley started his motion and slid across the plate while the ball sailed to the backstop. The Yankees had not had pulled off a straight steal of home since Jacoby Ellsbury against Tampa Bay on April 22, 2016.
With Giancarlo Stanton on second base in the eighth, McNeil was cited for the shift violation for having a foot on the shortstop side of second. The only previous violation in the first season of the new restriction was called against the Chicago White Sox when they played Pittsburgh on April 9.
Before a sellout crowd of 44,121, Cole retired his first 12 batters, then gave up Francisco Lindor's double off the wall in right-center and Tommy Pham's two-out RBI double that bounced on the warning track. Pham is 11 for 29 against Cole.
Jose Trevino doubled leading off the sixth and scored on a one-out single by Bauers, who saw 24 pitches from Verlander in three at-bats. Stanton followed with a 118.3 mph grounder that Escobar turned into an around-the-horn double play, the hardest-hit ball off Verlander since Statcast started tracking in 2015.
BYE
Mets RHP Stephen Nogesek refused an outright assignment and elected to become a free agent.
SITTING
Mets INF Daniel Vogelbach, hitting just .203, sat out his sixth straight game in what the team has termed a mental break.
"You go back to watching your swings and obviously it wasn't that far off because if you look into the data if you're getting technical I have over 50% hard-hit rate on the year," he said. "I'm still walking at the clip that I normally walk at. It's just something small that can lead to me not getting the ball in the air like I like to get the ball into the air."
PRIDE MONTH
The Coca-Cola sign board above right field was rainbow-colored for Pride Month.
TRAINER'S ROOM
Yankees: CF Harrison Bader (strained right hamstring) went 0 for 4 with two strikeouts in his first rehab game with Double-A Somerset. ... LHP Carlos Rodón (strained left forearm, back) and RHP Ian Hamilton (strained right groin) are to throw batting practice Thursday at Somerset. ... Manager Aaron Boone on OF Aaron Judge (sprained right big toe): "It is an unknown right now about when he's able to do things."
UP NEXT
Yankees: RHP Domingo Germán (4-3, 3.49 ERA) starts Friday at Boston, which goes with RHP Tanner Houck (3-6, 5.23).
Mets: RHP Trevor Megill (5-4, 5.14) opens a three-game series against visiting St. Louis, which starts RHP Miles Mikolas (4-3, 4.02).