NYCHA resident: Pain remains after ceiling leak caused fall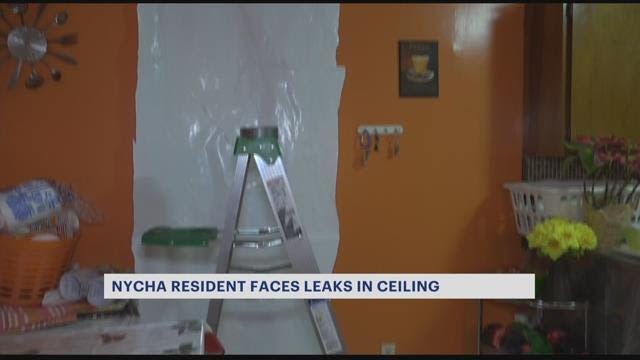 A NYCHA resident claims a leak in her ceiling caused her to fall.
Cheryl Christian said she walked out of her kitchen to find water dripping from the ceiling. "The water actually started from the ceiling fan," said Christian.
She says she then called her super and the fire department, but that she never heard back from her super at that time.
"The fire department came and said it could be dangerous or electrical because it's coming through the light fixture," said Christian.
Shortly after, Christian says she slipped on the water. "I slipped, fell, and grabbed onto the table and something cracked," said Christian.
She says she did more damage to her shoulder. "A NYCHA maintenance employee is opening up the ceiling to figure out where the problem is coming from, but there is no word when the problem will be fixed," said Christian.
Christian is afraid that the inspection will only cause more damage. She is upset about the whole process.
"My hope for the future is that they will treat the tenants here like they are human beings, not animals. They get angry when we get problems in our house and just flick us off like we are nobody," said Christian.
NYCHA responded with a statement that says, "The leak was located on a steam line in the ceiling...We offered Miss Christian a temporary unit but she preferred to stay in the apartment while maintenance is being done. Repairs are expected to be completed by early next week."