NYPD: Federal charges expected against suspects in Molotov cocktail attacks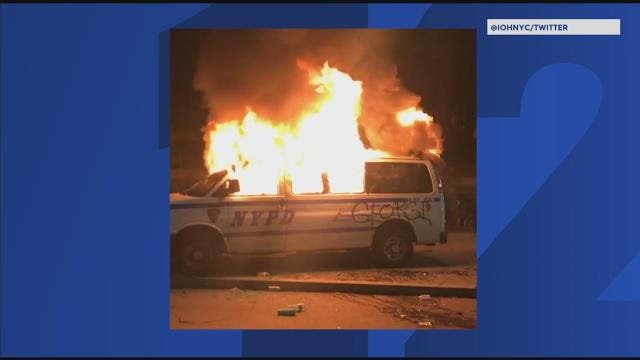 The NYPD says federal charges are expected to be announced against multiple people for use of Molotov cocktails a
mid the George Floyd protests in Brooklyn Friday night, 
including a woman from the Catskills who allegedly threw a lit Molotov cocktail at a marked police vehicle.
A law enforcement source confirmed that multiple individuals, including the woman, would be prosecuted by the U.S. Attorney's Office for the Eastern District of New York in connection with crimes last night involving Molotov cocktails in two different Brooklyn North precincts.
In the incident involving the woman and her sister, officials say four officers inside exited the vehicle after it shattered a rear window. The incident occurred within the confines of the 71st Precinct in Brooklyn Friday night.
"No one should tolerate actions like these against uniformed police officers anywhere," the NYPD posted on social media.
Clashes occurred in the borough Friday night during protests following the police-custody death of George Floyd in Minneapolis.
The NYPD says it made more than 200 arrests and that multiple officers were injured in the response to the protests.