NYPD gathers to honor fallen officer at street dedication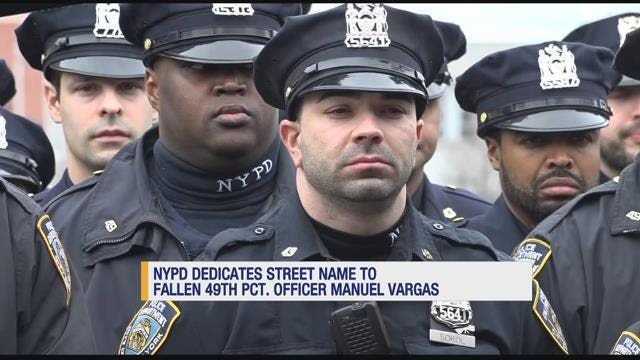 Members of the NYPD gathered Saturday to remember a fallen brother in blue on what would have been his 50th birthday.
Officer Manuel "Manny" Vargas was a veteran of the force of more than 20 years. He started his career at Manhattan's 24th Precinct and then served at the Bronx's 49th Precinct. He also answered the call during the Sept. 11 terror attacks.
Vargas later developed a deadly brain cancer believed to be linked to the toxins at ground zero. He died in November.
A sea of blue surrounded the 49th Precinct Saturday to reveal a street sign dedicated to Officer Vargas.
He was remembered as a tough cop and stern professional, who was also "the most gentle guy you could ever meet." Friends say he had a great sense of humor, and earned the nickname "Monsta" because of his big biceps.
The single father left behind two sons, including one who is serving the country and another pursuing his dad's interests in sports and exercise.
Vargas' career inspired a friend that he grew up with to become a cop himself. The friend now sports the same shield number that "Monsta" wore.
Saturday's event also served as reminder of those who were at ground zero who now face hardships because of their service.
"When you say, 'Remember Sept. 11,' realize there are officers at home struggling to breathe," says PBA Preident Pat Lynch.