Partial building collapse damages cars in Port Morris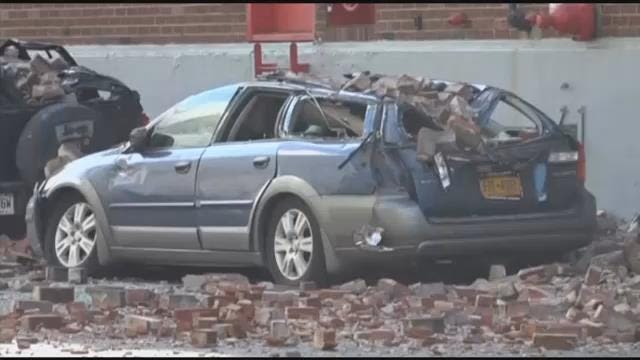 A partial building collapse in Port Morris caused bricks to come tumbling down on parked cars along East 140th Street and Walnut Avenue.
There was a massive police and fire department response outside 850 East 140th St. late Wednesday afternoon. It currently houses Paper Enterprises Inc. according to employees who were inside the building at the time of the incident.
According to the city Department of Building's website — there is an open class 1 violation against the property that was filed on Jan. 23, 2009. The violation was issued for failure to maintain building walls.
The owners were given a $1,000 penalty when it was first filed.
The FDNY say there were no injuries. Three vehicles were crushed by the bricks, while a few others sustained damage.
The DOB says although the building won't collapse, more bricks may fall. They issued a violation to the owner, who must also now install a sidewalk shed and hire an engineer for a full evaluation.