President Trump: USNS Comfort will now be used to treat COVID-19 patients from NY, NJ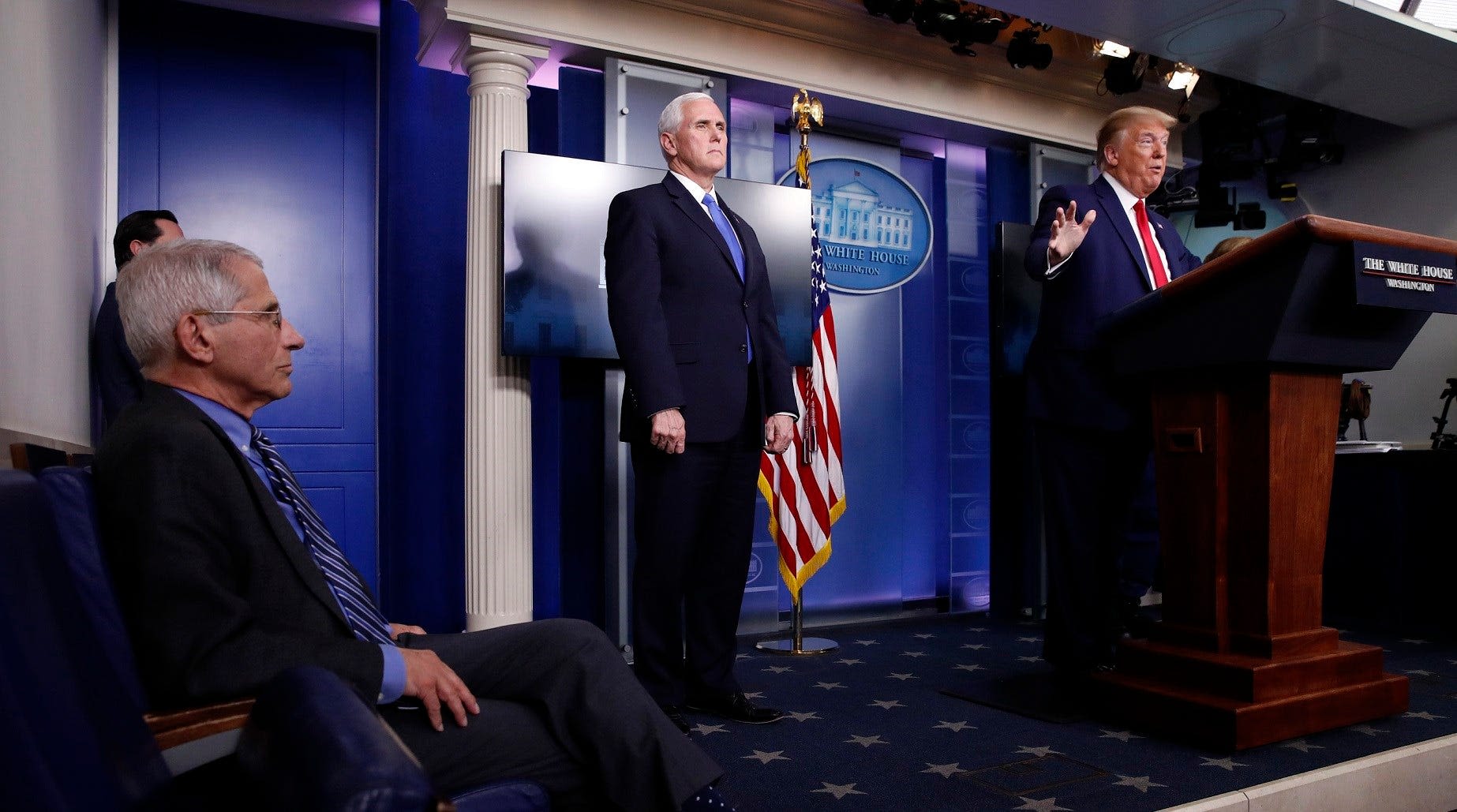 The Coronavirus Task Force held its daily White House briefing on Monday, April 6.
BRIEFING NOTES: 
-President Trump says the country is entering a crucial week in the struggle against the virus. Says prayers are with New York and New Jersey, which are "hot spots."
-Trump sends prayers to UK PM Boris Johnson, who is in the ICU in a London hospital 10 days after being diagnosed with COVID-19. President Trump says there's been progress with therapeutics and he's asked two US companies to contact London immediately to help, and to contact Johnson's doctors.
-"We're attacking the enemy on all fronts," Trump says. The president says 3,000 public health personnel are now deployed in the New York area to help.
-President Trump says USNS Comfort will be used to treat COVID-19 patients from New York and New Jersey at request of those states' governors. "It's set for COVID," the president says, adding, "Hopefully that will be very helpful to both states." Previously the hospital ship was intended to treat non-COVID-19 patients to relieve stress at local hospitals.
-The Army Corps of Engineers is building 22 field hospitals and alternate care sites in 18 states, Trump says.
-8,450 hospital beds have been deployed from federal stockpiles, President Trump says. More than 8,000 ventilators have been distributed.
-President Trump outlined the numbers of millions of masks, respirators and other equipment that FEMA has distrubuted.
-Under the Defense Production Act, President Trump says they have have reached a "very amicable" agreement with 3M for the delivery of additional face masks each month, mostly for front line health care workers. 
-Apple will now produce 1 million per week face shields for health care workers, President Trump says.
-President Trump called on the states' governors to make sure the equipment is distributed quickly to front line health workers. "Resources from the national stockpile need to reach our warriors, and they are warriors."
-President Trump says he thinks we're in "good shape" for the surge in cases that experts say is coming.
-The National Guard will assist in the delivery of equipment to the places where it's needed.
-States with a surplus of equipment are working with the federal government to redistribute supplies to where they are needed. President Trump says California will give 500 ventilators to be redistributed, and he thanked Gov. Gavin Newsom. 
-"We're increasingly hopeful that the aggressive measures" the country has put into place will help hospitals be able to manage any surge in cases, Trump says.
-"We're going to have a rough week, we're going to have a rough maybe little more than a week," Trump warned, but added that there's "light at the end of the tunnel.'
-President Trump said he spoke with former-VP Joe Biden, the Democratic presidential hopeful, and says the two had a "warm conversation" about COVID-19. "He gave me his point of view," Trump says, adding that it was a "friendly" call.
-The FDA has authorized two companies to start trials on a vaccine, according to President Trump.
-1.79 million coronavirus tests have been performed nationwide, President Trump said, from March 5 through April 5.
-President Trump outlined the tremendous response to the SBA's "Payment Protection Program" to get loans to small businesses hurt by the pandemic. He acknowledged some "small glitches" but says they have been addressed, and says more banks will get set up to give out the loans. He says if the fund runs out of money, the administration will ask Congress to replenish it.
"We will rise from this present crisis," President Trump said, outlining the tremendous efforts by cities, states, 
PHOTOS: World copes with the spread of coronavirus: