Staff Picks: Korn, Alice in Chains, Underoath, Ho99o9 at Jones Beach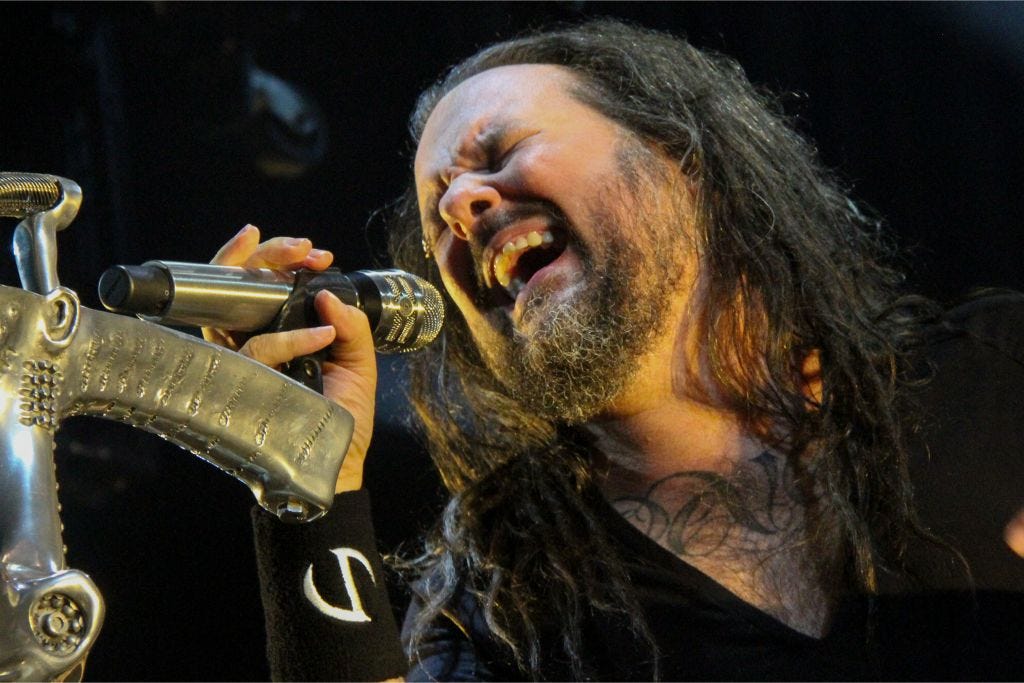 By Lee Danuff / Digital Producer
Hard rock and grunge fans got an almost five-hour treat Tuesday, as Korn, Alice in Chains, Underoath and Ho99o9 played four separate high-energy sets at Northwell Health at Jones Beach Theater.
Six p.m. may seem a bit early for rockers, but hip hop/punk group Ho99o9 - pronounced Horror – came prepared to rev up the audience with its high-energy 30-minute performance. The band, originally from Newark, was one of Rolling Stone's "10 New Artists You Need to Know" in 2014, and The Guardian's "New Band of the Week."
Underoath, which hails from Florida performed next. The band was founded by Dallas Taylor and Luke Morton in the late 1990s and has received three Grammy nominations.
Fans started to pack the venue as Alice in Chains went on stage for a 15-song set. The hard rock/grunge band, originally from Seattle, was formed in 1987 by guitarist and vocalist Jerry Cantrell and drummer Sean Kinney. They later recruited lead vocalist Layne Staley, who was later replaced by William DuVall a few years after Staley's death in 2002. Mike Inez - with the band since 1993 - rounds out the current lineup on bass. The band's original bassist Mike Starr passed away in 2011. The band has sold over 30 million records worldwide, with two number one albums, six top 10 albums on the Billboard 200 chart. It also received 11 Grammy nominations.
Metal band Korn rounded out the evening. The band was originally formed in 1993, and currently features founding members James "Munky" Shaffer, Reginald "Fieldy" Arvizu, Brian "Head" Welch and Jonathan Davis. Korn had sold more than 35 million records worldwide. It has earned two Grammy Awards out of eight nominations and two MTV Video Music Awards out of 11 nominations. Korn has had multiple releases that have been certified platinum and gold.
If you missed the Jones Beach show, the bands are also performing in
Saratoga Springs, New Jersey and Connecticut.
SPOILER ALERT - Scroll down to see the set list from Jones Beach
Underoath set list:
On My Teeth
Loneliness
Rapture
Breathing In a New Mentality
Ihateit
Hold Your Breath
No Frame
Writing on the Walls
Sink With You
Alice in Chains set list:
Angry Chair
Man in the Box
Check My Brain
Again
Them Bones
Dam That River
Hollow
Rainier Fog
No Excuses
Nutshell
Bleed the Freak
We Die Young
The One You Know
Would?
Rooster
Korn set list:
Here to Stay
Blind
Divine
Rotting in Vain
You'll Never Find Me
Twisted Transistor
Shoots and Ladders (with snippet of One by Metallica)
Got the Life
Make Me Bad
Somebody Someone
Freak on a Leash
Encore:
4 U
Twist
Coming Undone (with snippet of We Will Rock You by Queen)
Falling Away From Me