Tri-state teaching institutions release statements on death of George Floyd, protests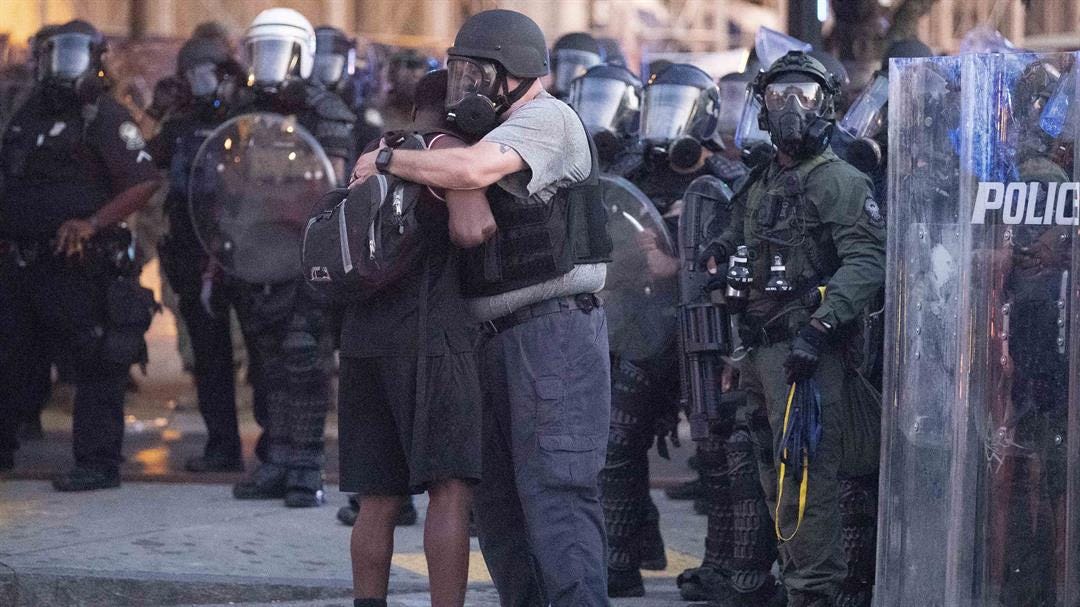 As thousands of protesters take to the streets in response to police killings of black people, tri-state organizations and businesses are wading into the national conversation. 
In a statement from CUNY Chancellor Félix Matos Rodríguez on the police-involved killing of George Floyd he says, "I do believe, however, that we must do all we can to resist and overcome such despair — understandable as it is — and redouble our commitment to finding ways forward."
In a statement to its community, Hofstra University President Stuart Rabinowitz says in part, "We must redouble our efforts, as a university, to come together to learn and discuss, to hear from the voices of our students and colleagues of color and all in our community, to understand and relate."
President Dawood Farahi in a statement says, "The grief that I feel — and that I know so many of you are struggling with as well — is not only for Mr. Floyd, who died in such a horrific way. It is for all people who have suffered under similar circumstances because of the color of their skin. The list is too long, and it is utterly unacceptable and shameful for an advanced and multicultural society."
President Dr. Susan A. Cole says in statement, "What we are seeing across the country is that people are sad and angry, and we are experiencing those feelings as well."
Northwell CEO Michael Dowling also took a stand against racism and discrimination. He says, "The bottom line is all forms of racism and discrimination must be eradicated. We are committed to nurturing a culture that supports diversity, inclusion and health equity where every team member and patient is treated with dignity and respect and feels welcomed, valued and heard."
NYU's Student Government Assembly Executive Committee and Senators at-Large for Black Students released a statement regarding the wellbeing of black students and cases of police violence in the United States. President Andrew Hamilton also released a statement to the NYC community. 
President Marvin Krislov says, "In this challenging time, we stand, as always, with all of our students, faculty, and staff, especially those of color. We are steadfast in our belief in the power of peaceful protest. And we support anyone and everyone in our community working to change the world for the better."
Rowan University's President Ali A. Houshmand says "Together in pain and loss, we will demonstrate our commitment to peace and justice, kindness and hope, honor and character."
Various Rutgers University organizations released statements regarding racial injustice and the social unrest we are experiencing throughout the country, including the video below from Rutgers Football.
A message from President Joseph E. Nyre regarding continued unrest across the nation says, "We must remain steadfast in fulfilling Seton Hall's commitment, as we work to uphold our Catholic devotion to peace, justice and the dignity of all human life."
In its statement, Stony Brook University says, "The killing of George Floyd serves as another painful example of the systemic racial disparities present in our country. This event is made even more poignant during this time of isolation due to the COVID-19 pandemic, and the unequal burden of the disease on communities of color."
Many SUNY schools have released statements on the death of George Floyd, inlcuding SUNY Polytechnic Institute. Interim President Dr. Grace Wang says in part, "Social justice, equality and an end to systemic racism are at the forefront of our values as we watch protests take place across New York State and the nation."
The University of Connecticut released a statement in support of its black community in the battle for equality and justice.
"I believe that all of us at Yale must do what we can to replace fear with hope—and not with anything less than action," says President Peter Salovey in a statement on the killing of George Floyd.