White House Task Force: Testing 'part of multifaceted way' to defeat COVID-19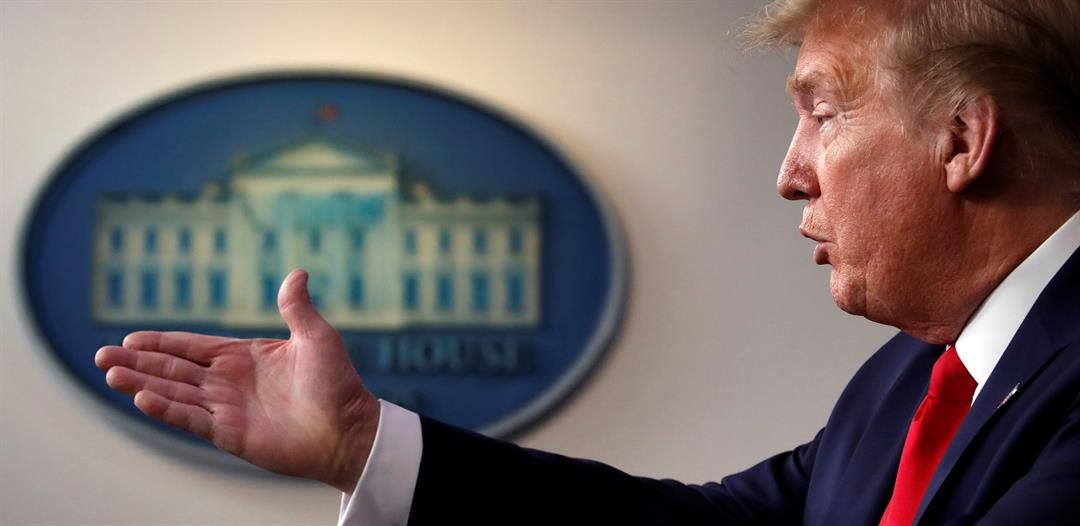 News from earlier in the day:
Mexico's president says U.S. President Donald Trump has promised Mexico will be able to buy 1,000 ventilators and other intensive-therapy equipment used in treating severe cases of COVID-19.
President Donald Trump urged supporters to "LIBERATE" three states led by Democratic governors Friday, apparently encouraging the growing protests against the stay-at-home restrictions aimed at stopping the coronavirus.
President Trump criticized New York Gov. Andrew Cuomo, prompting a lengthy response during his daily briefing. The clash between Trump and Cuomo was personal, with the president complaining the governor hasn't said thanks for the help he has received from Washington. Cuomo countered by saying: "I don't know what I'm supposed to do, send a bouquet of flowers? `Thank you to the federal government for participating in a federal emergency.'"Updates from coronavirus task force:
Updates from news conference:
President Trump says he met with the countries top faith leaders.
President Trump says the Treasury Department has sent out stimulus payments to more than 80 million Americans.
President Trump says Department of Agriculture will be implementing a $19 billion relief program for "our great farmers and ranchers." Another $14 billion will be coming in July.
President Trump says there have been 3.78 million tests in the nation's most hardest hit areas.
"In the next few weeks we will be sending out 5.5 million testing swabs to the states."
President Trump says the media and some politicians have spread "false and misleading information about our testing capacity."
"At some point in the not to distant future, we are going to have our country back."
"We have already built sufficient testing capacity for states to begin their reopenings."
President Trump says people will see "very dramatic" steps taken in the next few weeks. He adds that they are "putting safety first."
Earlier this week, the FDA authorized two new antibody tests that will determine whether someone was previously infected with the virus. There are now four antibody tests authorized by the FDA.
VP Pence says President Trump issued a disaster declaration for American Samoa. It's the first time all states and U.S. territories have been under a disaster declaration. 
VP Pence: "We are going to continue to work with your state governors and your state health officials to scale testing in the days ahead, but as you will hear from all of our experts tonight, our best scientists and health experts assess that states today have enough tests to implement the criteria for phase 1 (reopening) if they choose to do so."
Dr. Fauci outlines the different types of tests that are being conducted.
Fauci: "Are there enough tests to allow us to be able to go through this first phase in a way that is protective of the health and safety of the American people?"
2 types of tests: Testing for the infections and tests that will so if someone had the infection (antibody).
Fauci: "Testing is an important part of a multifaceted way that we are going to control and ultimately end this outbreak."
Fauci says many of the initial problems that were encountered (delays, not enough materials) in terms of testing "have been corrected."
Dr. Birx: We're calling on the American Society of Microbiologists, who work closely with labs, and the entire Walter Reed team to identify what the needs are for the county's labs.

HHS testing czar Adm. Brett Giroir reviews crucial information regarding testing and tracing capabilities in he U.S.

Giroir: FDA has expanded testing options to address supply needs.

On liberation tweets: Trump says some of the measures are "too tough" but doesn't go into specifics.

On protesters gathering: "These are people expressing their views. I see where they are and I see they way they are working. They seem to be very responsible people to me. But they have been treated a little bit rough."

On replenishing funds for small business loans: President Trump says next round of funding will "get us to a point that's going to be rather beautiful." He says $250 billion in funding is being held up by Democrats.
On resuming campaign rallies: "Well I hope we can do rallies. It's great for the country. It's great for the spirit...For me, it's a tremendous way of getting the word out...We win where we have rallies."
PHOTOS: Heroes on the front lines against COVID-19