WOOF! Tips for traveling with your 'fur-ever' friend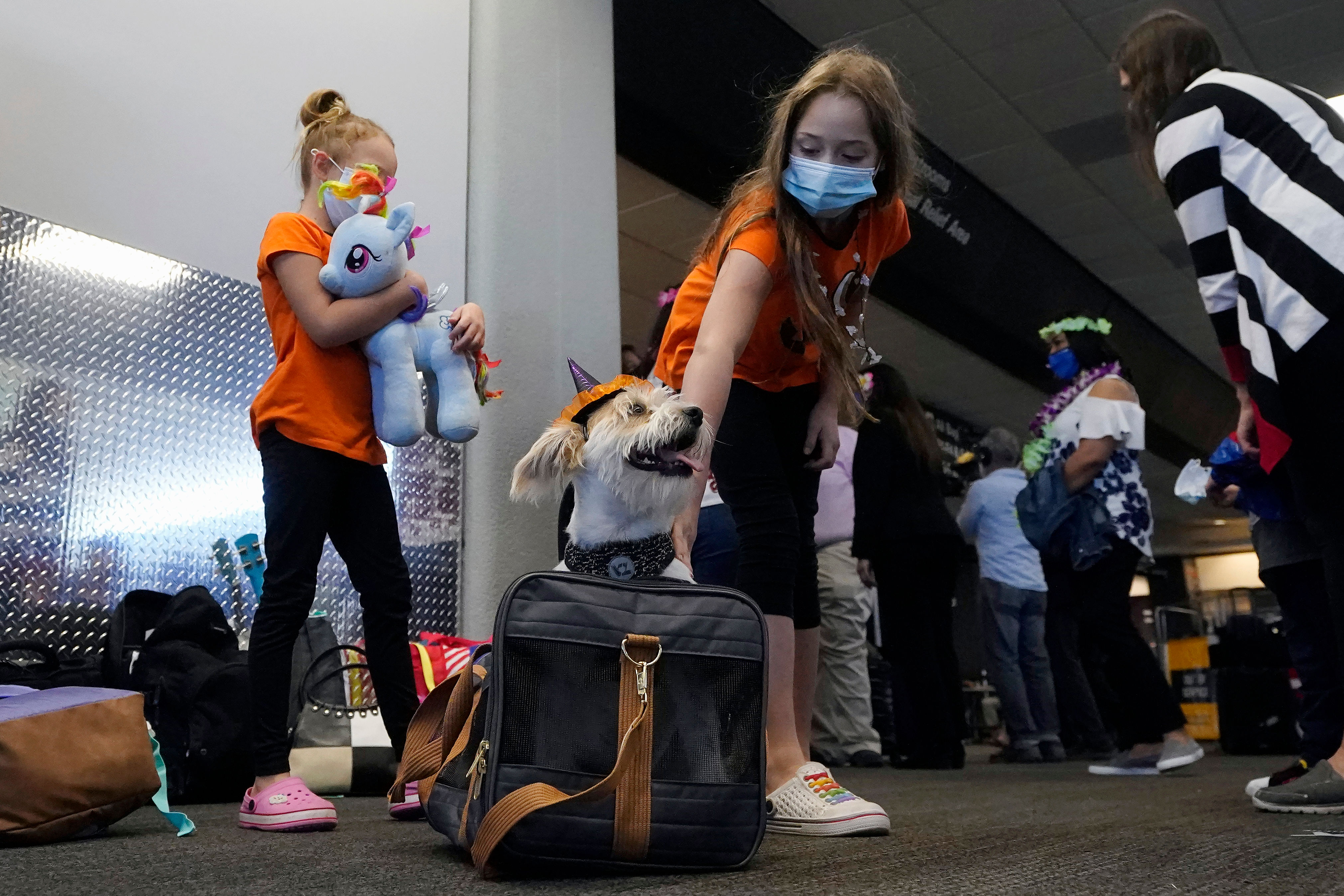 Traveling with a pet?
Here are some tips to make it easier for you and your best friend:
1. Consider a microchip!
If your dog or cat is separated from you, a shelter or a veterinarian can read the chip, and they can then track you down through a worldwide database.
2. Plan ahead
Plan ahead as airlines and hotels may limit the number of pets.
3. Visit the veterinarian
Visit your veterinarian before going on a trip to check if they're healthy enough for the adventure, and check that their vaccinations are up to date.
4. Get a health certificate from your vet
Many states require an
up-to-date medical certificate
, which shows your pet is healthy to travel and therefore presents no risk of passing any disease to other animals or humans. You might be asked for this certificate at some hotels when checking in with your pet.
5. Pet crate
Get a pet crate or carrier to keep your pet safe during the trip. Get a crate early and get your pet used to it. If you're flying - make sure the crate is airline-approved,
click here
for some more tips to keep in mind. 
6. Don't leave your pet alone
Don't leave your pet alone! When left alone, your pet will try to find you, and could get lost.
7. Bring food and water
If traveling by car, be prepared by having a supply of water and food.
8. Consider the weather
If you're traveling during the summer -- when possible, try traveling when it's cooler. For example, traveling by car in the early morning or evening.
9. Ask about pet policies
Call your hotel and ask them about their hotel pet policies.
10. Pet services
Research pet services in your destination. Find the nearest veterinarian. Find the nearest dog parks and pet friendly restaurants.
11. Regular schedule
When traveling, keep your pet on their normal schedule by feeding them and taking them for their walk as close to the regular time as possible.
12. Practice with your dog
Nicole Ellis, a certified professional dog trainer for Rover.com,
suggests practicing with dogs
who have not traveled much. If a dog is going from a quiet rural area to a noisier urban environment, take a few shorter trips to simulate the holiday surroundings, she said.
13. Airport security
Small pets can travel in the cabin of an aircraft with their owners after Transportation Security Administration (TSA) officers screen pets at the security checkpoint. Follow these steps:
All pets should be brought to a security checkpoint in a hand-held travel carrier.
Remove the pet from the carrier just prior to the beginning of the screening process.
Place the empty travel carrier on the checkpoint conveyor belt so it can be X-rayed.
Never place a pet in the X-ray tunnel. The X-ray at the security checkpoint is used to screen passengers' personal property and carry-on luggage only.
If possible, carry the pet through the walk-through metal detector during the screening process. Alternatively, a pet can walk through the screening process if the owner has the pet on a leash. Best to listen to the guidance that a TSA officer is providing.
A TSA officer will give the pet owner's hands an explosive trace detection swab to ensure there is no explosive residue on the owner's hands.
After the screening process is complete, owners should return their pet to the travel carrier at the re-composure area away from the security checkpoint. This location helps ensure the safety of the pet as well as other passengers.
Associated Press wires contributed to this report.