4-alarm fire rips through businesses on Webster Avenue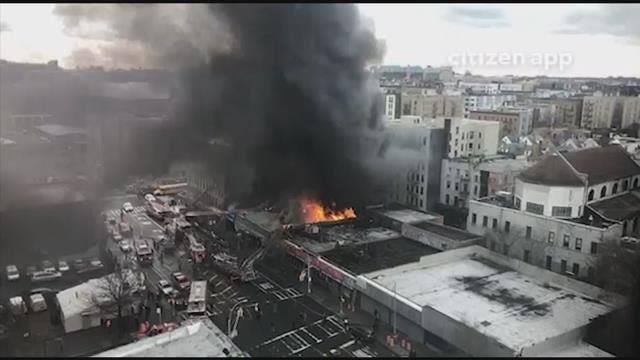 A four-alarm fire erupted Friday in a laundromat on Webster Avenue and spread to neighboring businesses.
FDNY officials say the call came in around 12:45 p.m. They say the fire broke out in the shared attic of four businesses, including the Express Laundry laundromat at 2467 Webster Ave.
The laundromat sustained severe damage, including a collapse of the building's roof, according to FDNY officials.
A Domino's pizzeria, cellphone store and barber shop were also gutted by the fire. Fire officials say a neighboring apartment building was not damaged by the fire.
Traffic on Webster Avenue was impacted amid the fire response. A total of 150 firefighters responded to the scene, according to fire officials.
Two firefighters were transported to the hospital with minor injuries. The FDNY says there were no civilian injuries.
The laundromat owner says he is already working on contacting his insurance company and landlord to see what his next step can be.