8 ways to make Easter 'Egg-Cellent' in your home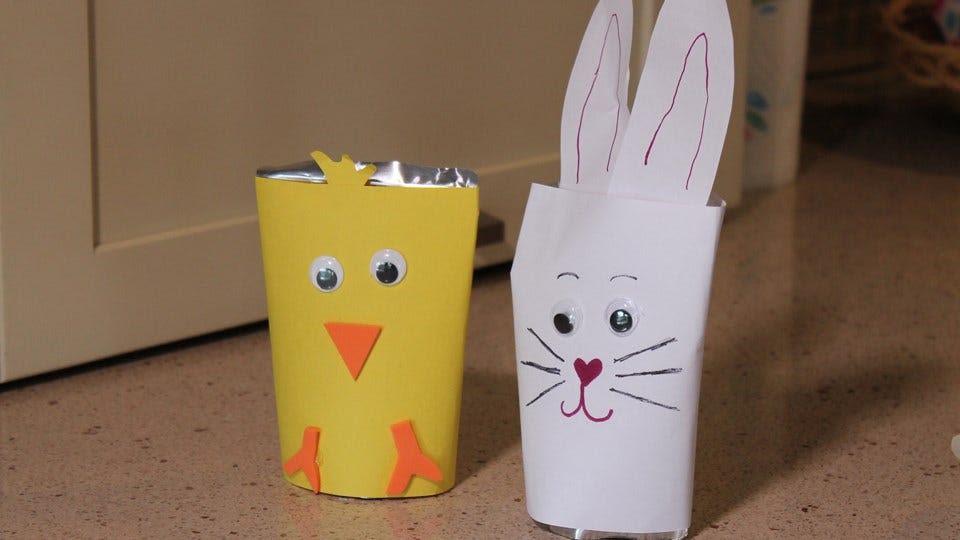 By: Anne Caminiti, of Momee Friends of Long Island 
Due to social distancing requirements, your Easter plans may have changed because of the COVID-19 pandemic, but there is no reason why this holiday can't feel EGG-cellent in your home. We have some fun ways you can get crafty with your kids, make some edible treats and enjoy an egg hunt from the comfort of your home.
1 - Magical Jelly Beans
Each year we have a tradition of "planting" magical jelly beans. We decorate a container for the Easter Bunny and fill the inside of the container with dirt. The night before Easter Sunday we "plant" the jelly beans so that the Easter Bunny can have those jelly beans grow into lollipops if the Easter Bunny feels the kids behaved well and deserved them.
2 - Rice Krispie "Surprise" Egg Treats
Every child loves a "surprise egg." This one is not only delicious, but fun to make as well. Make your original Rice Krispie Treat recipe and just by using a large plastic egg you can form each side of the egg. Then, place about 3 to 4 jellybeans in the middle, close and push tight to form a full egg. When the child opens the Rice Krispie treat there will be jelly beans inside. Yummy and fun. *If you do not have jelly beans you can put any other small loose candy of your choice inside. Such as: Skittles, M&Ms or Mike & Ikes.
3 - Peep Bunny Twinkie Cars
Want a fun Easter dessert idea that the kids will love to make?  This is an edible activity that any true PEEP lover will enjoy making and eating. For each Peep Bunny Race Car you will need to set up a plate of all the "parts" needed.

Here's what you need: One Peep bunny, a Twinkie (car) , 4 marshmallows or chocolates (for wheels ), one mini vanilla wafer (steering wheel) and some frosting.
Click here to read full directions

4 - Easter Juice Boxes

These adorable juice boxes are easy to make and will brighten up your Easter table. With some art supplies from your craft box you can easily make these. They make for really adorable pictures, too!
Read more here
.

5 - Decorate Your Eggs with Science Fun!
Science takes over this egg dyeing technique! Now, this is an exciting way to dye your eggs with some BUBBLING and FIZZING Fun!
Here's how:
- Fill the bottom of your container with baking soda and mix some food coloring into the baking soda.
- Place your hard-boiled egg gently into the bottom of the container and add vinegar SLOWLY.
- See what happens …  and within a minute your egg will be covered in color.
- Set the egg aside in an egg carton to dry.
**You might want to have a lot of eggs already hard boiled because your kids are going to want to do this over and over, again. The result is different every time. The eggs look beautiful don't they?
6 - 
Dye Easter Eggs with Cool Whip
Some of our favorite holiday traditions can be harder with little ones. I always search for different ways to modify something to be a little more "little kid" friendly. Finding out that Cool Whip plus food coloring is an easy way to "dye" Easter eggs was a great find and the result is beautiful.
Read more here
.
7 - Thumbprint Eggs

Turn those precious thumbprints into adorable eggs for Easter! Have eggs hard-boiled ahead of time and give each child an egg, finger paints and markers for a fun activity that turns into an adorable decoration at home.
Read more here
.
8 - Festive Easter Breakfast
Start your Easter right - with some fun at breakfast. Make some Bunny pancakes or waffles. See some fun pictures below to inspire you to make your own pancakes or waffles in a bunny shape for your family.
We hope you try some of these fun ideas with your family. Be sure to use the eggs you decorates to enjoy an Easter Egg Hunt with your family. Happy Easter, stay well and enjoy the family time at home.
Click here
to read more about Anne Caminiti.
(All photos courtesy of Anne Caminiti)
Check out some of YOUR Easter photos below, and submit one here.