Eduardo Escobar hits for cycle, has 6 RBIs as Mets beat Padres 11-5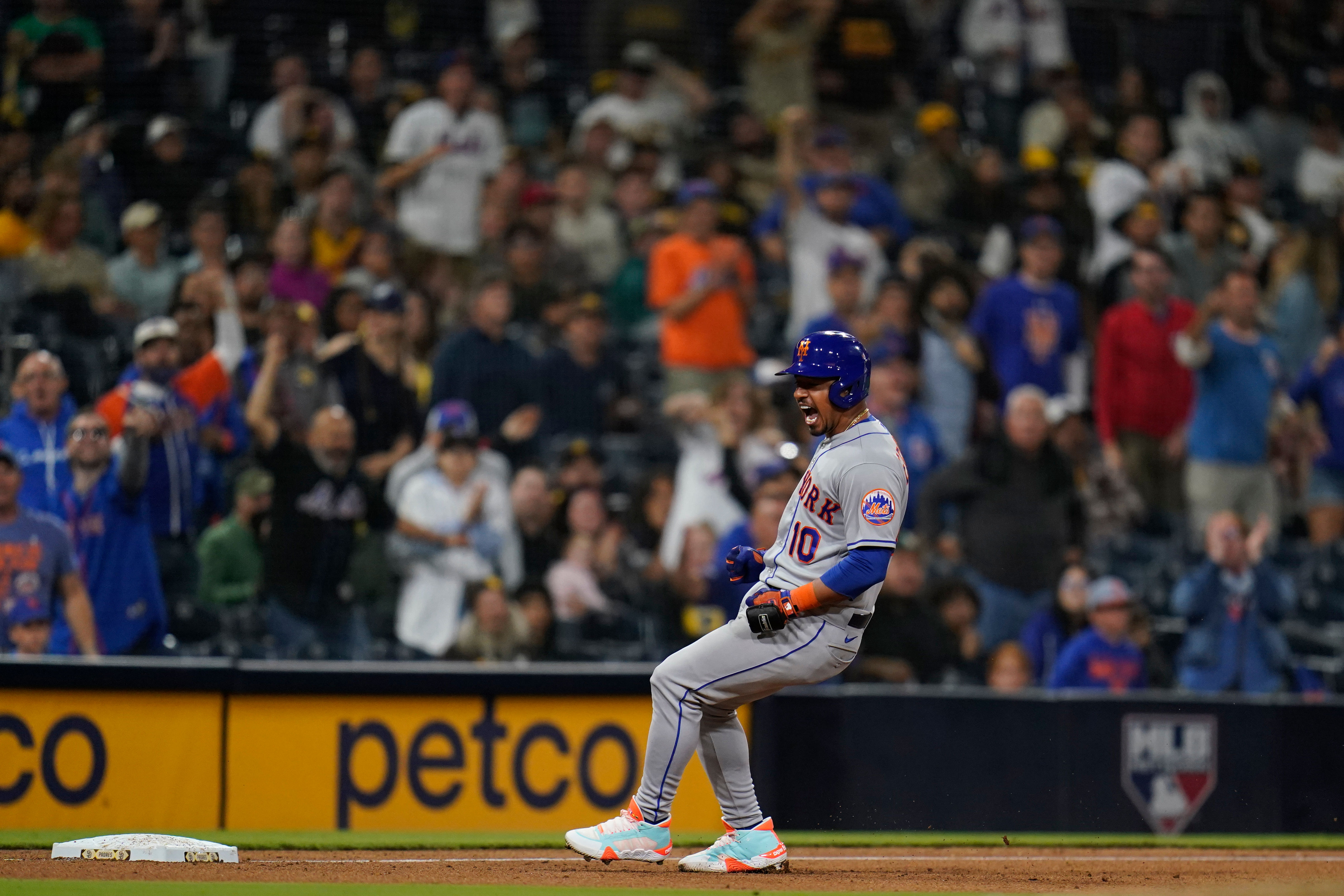 Eduardo Escobar knew he needed a triple to complete his first cycle and he was going to do whatever it took to get it.
Sure enough, he did.
Escobar hit a two-run triple with two outs in the ninth inning, giving him six RBIs in boosting Carlos Carrasco and the New York Mets to an 11-5 win Monday night against the San Diego Padres.
The switch-hitter sent an opposite-field drive off lefty reliever Tim Hill over the head of right fielder Nomar Mazara and off the wall. Escobar sped around the bases and pulled into third in front of his cheering teammates lining the dugout rail. He pumped his right arm, clapped his hands and blew a kiss skyward.
"This is a great moment. It's unbelievable," the 33-year-old third baseman said. "It's hard hitting the cycle at this level. Today's a special night for me. Most important is the win."
The ball from the triple was perched in his locker.
Escobar came in batting just .227 but has three homers and 12 RBIs in his last nine games.
He credited hitting coach Eric Chavez and his teammates, "to everybody who helped me." He said his teammates encouraged him to keep working hard "because your moment's coming. ... I'm so happy I started hitting now and now I help the team win. That's the most important."
Escobar hit a two-run moonshot homer that sailed well over the party deck atop the right field wall off Craig Stammen with no outs in the eighth. It was his fifth.
Escobar also hit a two-run single in the first and a double in the fourth.
It was the 11th cycle in Mets history and the first since Scott Hairston on April 27, 2012.
It was also the first cycle at Petco Park, which opened in 2004.
"Any guy is fun to watch, especially him, what he means to his teammates," New York manager Buck Showalter said. "It's almost like they hit it."
The Mets, an NL-best 38-19, won their third straight and for the ninth time in 11 games. The Padres, who have the NL's third-best record at 33-22, had their three-game winning streak snapped.
By BERNIE WILSON