Gov. Cuomo extends order for nonessential workers to stay home, NY cases now at 59,513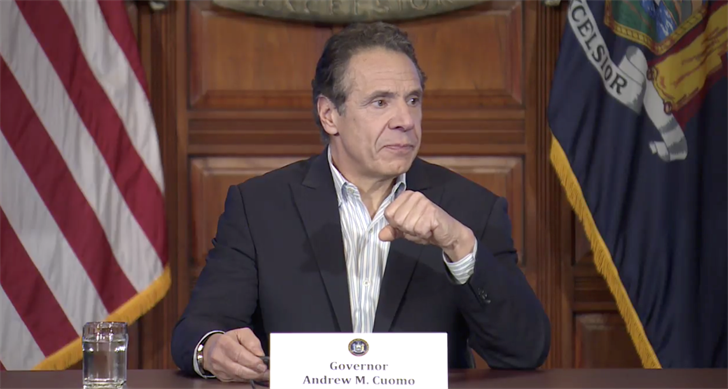 Gov. Andrew Cuomo on Sunday extended his order for nonessential workers in the state to remain at home through April 15.
The order, called NYS on PAUSE, will be re-evaluated every two weeks, the governor said at a Sunday news conference. He had previously extended the order closing New York schools through April 15.
It comes as total coronavirus cases in the state reached 59,513. The virus is blamed for 965 deaths in New York state.
BRIEFING NOTES:
-Gov. Cuomo says trajectory of cases continues to go up.
-Talks about a 'rolling apex,' how different areas will see peak cases at different times.  
-Governor says this presents a challenge for the local health systems.  
-"No hospital is an island," the governor says.  He says both public and private hospital systems need to work together in a way they have never done before.  
-Gov. Cuomo says he is going to ask Mayor Bill de Blasio and Comptroller Stringer to look at NYC hospitals to see how the hospitals can work better together.  
-Governor says once the apex hits upstate, downstate hospitals should be able to jump in and assist once the downstate apex is over. 
-PAUSE program extended two weeks until April 15. Nonessential workers must stay home until then. 
 -Governor says a more non-invasive test has been developed. 
-Gov. Cuomo says testing holds the key to determining when people can return to work.  
-Governor says rate at which cases is doubling is slowing.  Trend of hospital discharges is also going up.
-Governor remembers NYPD Detective Cedric Dixon and nurse Kious Kelly, who died of the coronavirus.
-Current numbers: 59, 513 total cases. 965 deaths.
-Gov. Cuomo talks about the CDC travel advisory and says he agrees with President Trump's decision. He says that it reinforces what New York, New Jersey and Connecticut are already doing.
-"This is New York. We're going to make it through this," says the governor.
-Cuomo says there is no state in the U.S. that is more prepared to handle the crisis.
-Gov. Cuomo says the New Rochelle lawyer who was very ill and hospitalized, has been released from hospital.
-While answering questions, Gov. Cuomo says President Trump's 'quarantine' comment made residents very nervous.  
PHOTOS: Impact of the coronavirus outbreak around the world: