Heat roll past Celtics 128-102, take 3-0 lead in Eastern Conference finals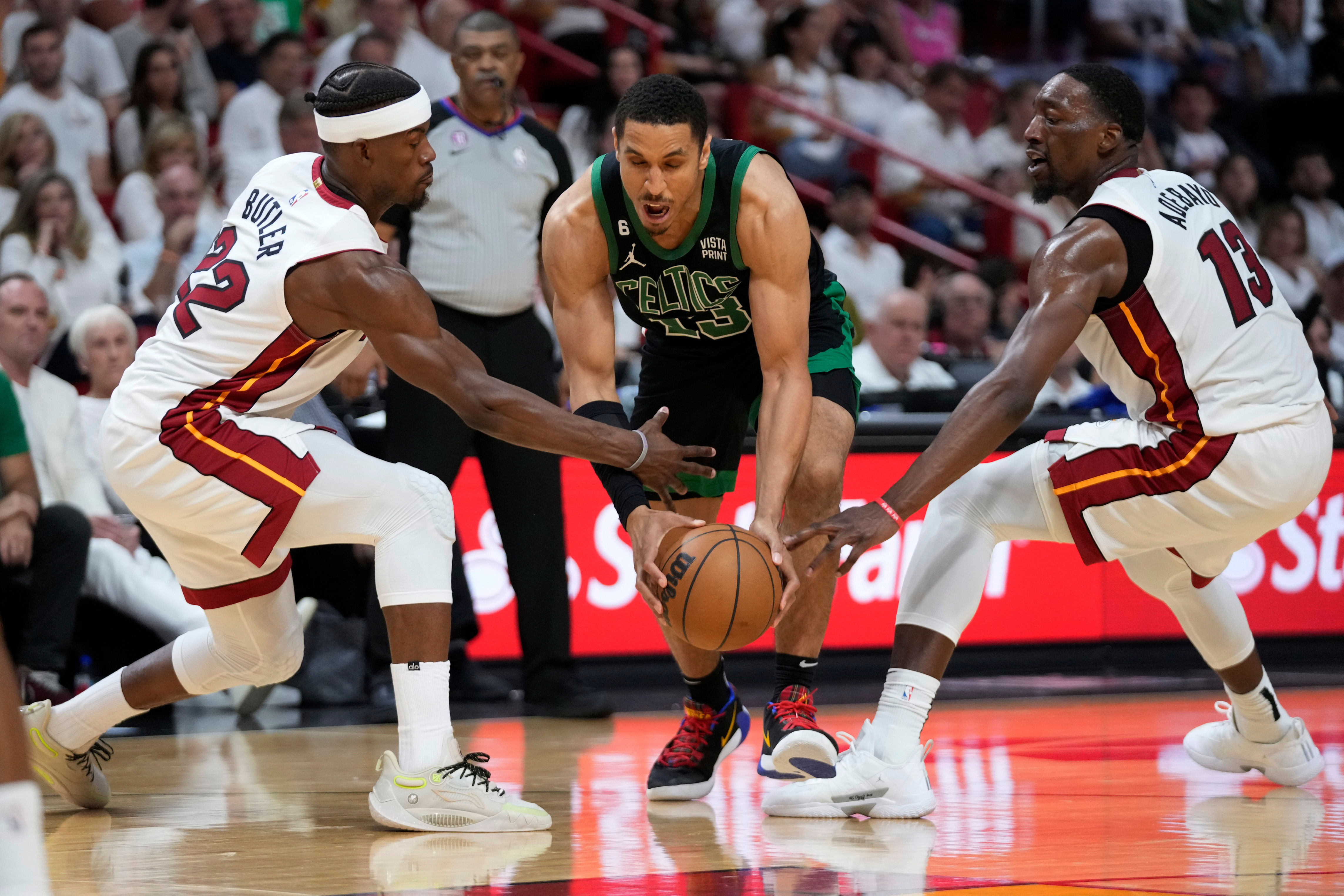 Gabe Vincent scored a career-high 29 points, Duncan Robinson added 22 and the eighth-seeded Miami Heat moved one win from the NBA Finals after rolling past the Boston Celtics 128-102 on Sunday night in Game 3 of the Eastern Conference title series.
Caleb Martin scored 18, Jimmy Butler finished with 16, Bam Adebayo had 13 and Max Strus added 10 for Miami, which leads the series 3-0. Every team in NBA history that has won the first three games of a best-of-seven has ultimately prevailed; the Heat are 8-0 in that situation.
Jayson Tatum scored 14 and Jaylen Brown added 12 for the Celtics, who won three times on Miami's floor on the way to winning last season's Eastern Conference finals - but simply never had a chance in this one and basically emptied the bench for the fourth quarter.
Grant Williams and Payton Pritchard each had 12 for Boston. Game 4 is Tuesday in Miami.
The NBA Finals start June 1, and the way things are going, that might mean the league is about to go a few days without games. The Western Conference finals could end Monday; Denver leads that series against the Los Angeles Lakers 3-0. And now, the East finals could end Tuesday.
There's never been a season where both conference finals ended in sweeps; it happened in 1957 in the division finals immediately preceding the title series, when Boston beat Syracuse 3-0 and St. Louis beat Minneapolis 3-0.
Of all the 3-0 series leads in NBA history, this one might be the most unexpected - a No. 8 seed in the Heat, a team that struggled just to get into the playoffs, a team that was less than 3 minutes away from being eliminated in the play-in tournament, getting past top-seeded Milwaukee in five games, then fifth-seeded New York in six, and now on the brink of denying the No. 2-seeded Celtics a second consecutive East crown.
And the Heat let Boston know how much they were enjoying this one.
Mindful that Boston's Al Horford directed a timeout signal toward the Miami bench during Game 1 when the Celtics were on a second-quarter spurt to build a comfortable lead, Butler did the same to Horford as the Heat were running away in the third quarter of Game 3. Besides, the Heat rallied to win Game 1 anyway. There was no rally required in Game 3 by the Heat. There was barely one attempted by the Celtics, for that matter.
Boston got within 61-49 when Marcus Smart had a three-point play on the opening possession of the second half. The rest was all Miami, which immediately answered with a 28-7 run to open a 33-point lead at 89-56, which had the building rolling. The lead was so big, and there was so much time left, that the sellout crowd of 20,088 actually was subdued a bit by the time it was over.
They might have been yelled-out. Or maybe they were saving it for hockey on Monday night, when the Florida Panthers - another No. 8 seed on a magical playoff run in South Florida - will try to take a 3-0 lead in their East finals series against the Carolina Hurricanes.
TIP-INS
Celtics: Robert Williams made his first shot, meaning he made 12 straight to start the series. He missed his second attempt. … The Heat encourage fans to wear white to playoff games, and Tatum also arrived in an all-white suit. … Smart appeared to throw a punch in the third quarter, but missed and after review referees determined he did not deserve a flagrant foul or a technical (which would have been his second of the night).
Heat: Robinson made five 3-pointers and now has 124 in his Heat postseason career, passing LeBron James (123) for the most in Miami history. ... Butler's steal with 7:17 left in the first quarter was the 2,000th in Heat postseason history. … Shaquille O'Neal, at the game as part of the TNT broadcast crew, greeted former teammate (and now Heat executive) Alonzo Mourning and got a long ovation when introduced during a second-quarter time out. ... Vincent's previous career best was 28, set in a Jan. 12 win over Milwaukee.
CONFUSED DOLPHINS?
Miami Dolphins coach Mike McDaniel, a regular at Heat games this season, tried to get the pregame crowd going by waving one of the giveaway towels. Dolphins defensive lineman Christian Wilkins was at the game - wearing green shoes on a night Miami was playing the Celtics, though it should be noted he was born in Massachusetts.
LOVE HURT
Miami's Kevin Love checked out 4:47 into the game after what the Heat said was an undisclosed ankle injury. He went to the Heat locker room for evaluation, returned to the bench area later in the first half, and started the second half.
QUOTABLE
"The lack of mental toughness. It's embarrassing … that was an embarrassment for the Celtics." - TNT's Charles Barkley at halftime, with Boston trailing 61-46 and after being down by as many as 22 points.