LI mom says daughter couldn't use President Trump for hero project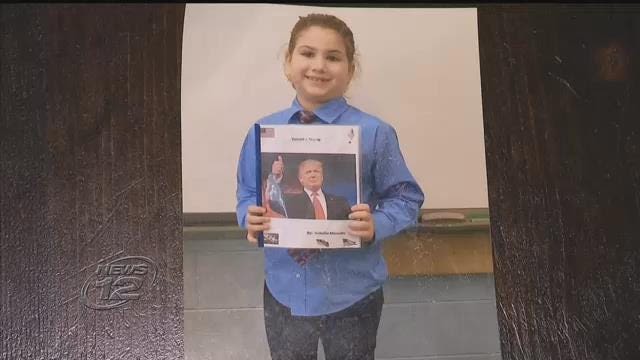 A Long Island mother claims her daughter was not allowed to have President Donald Trump as her hero for a class assignment.
When sixth-graders at Samoset Middle School were assigned to pick a hero on whom they would write a report, 11-year-old Bella Moscato, of Lake Ronkonkoma in Suffolk County, said her choice was a no-brainer.
"Donald Trump is my hero," she says.
The 45th U.S. president has been Bella's idol since she was 8 years old, which is why she dressed up as Trump for a third-grade class project. But Bella says when she told her sixth-grade teacher that Trump was her choice for the hero project, the teacher nixed the idea.
Bella says her teacher said Trump "spreads negativity and says bad stuff about women" in front of another teacher and students in the class. The teacher told her to pick another hero.
Bella's mother, Valerie Moscato, says she was outraged when her daughter called her from school about the incident. She says what the teacher did amounts to intimidation and censorship.
Arthur Moscato, the girl's father, says he can't believe someone would tell his daughter that the current U.S. president cannot be her hero.
Sachem Central School District Superintendent Dr. Kenneth Graham issued a statement to News 12 saying: "It is not accurate that this student was told that they were not allowed to conduct research or report on any individual for a school assignment, including President Trump. To the best of our knowledge, by choice the student is still conducting their project of President Trump."
The Moscatos say the superintendent's statement made matters worse.
Bella said she is sticking to the choice of her original hero project.