Man involved in Throgs Neck hit-and-run wakes from coma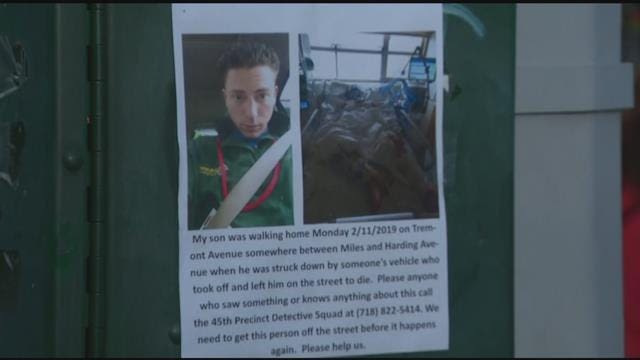 Jared D'Amico, 27, was walking on East Tremont and Miles avenues Monday night when a vehicle hit him and sped off. He had been unresponsive ever since.
But on Friday, Kim D'Amico, Jared's mother, posted on Facebook, "I'm so happy! My son is awake and responsive. Doesn't remember what happened but knows he's in the hospital and I want to thank everyone for their prayers and concern for our son."
D'Amico's parents have called on the community to find the driver responsible for Jared's injuries and also want to make that intersection safer. A woman was hit and killed in the same intersection only two months prior.
Community Board 10 weighed in on the issue, saying it has received calls about the intersection and is ready to work with the Department of Transportation to make it safer.
The DOT adds, "DOT's Vision Zero work is largely guided by data, and that our priority areas are determined based on where the most pedestrian fatalities and serious injuries are happening. Following any fatality, DOT reviews the location for potential safety enhancements."
City Councilman Mark Gjonaj is offering a $10,000 reward for information leading to an arrest in D'Amico's case.
For now, the D'Amicos are just grateful for their community.
"The outpouring of support and thoughts and prayers that we've received has really amazed me," says Noel D'Amico, Jared's father.