Mayor de Blasio draws ire of bagel aficionados with his order of choice -- whole-wheat, toasted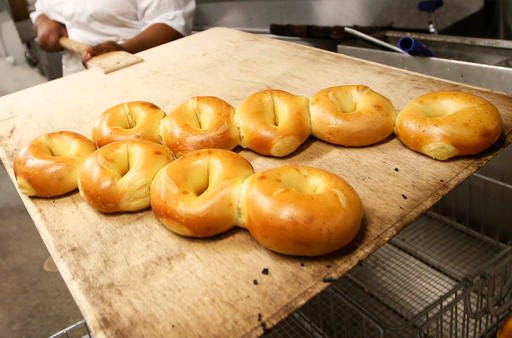 By Kyle Kandetzki/News 12 Digital
Mayor Bill de Blasio used Twitter to voice his opinion on his favorite bagel -- but it wasn't necessarily his choice of eatery that caught some backlash.
In honor of National Bagel Day, de Blasio chose Park Slope's Bagel Hole as his favorite stop in the city. He followed up with his order:
"Whole wheat. Toasted. Extra cream cheese."
De Blasio caught flak from Twitter users/bagel aficionados who say toasting bagels is basically sacrilegious. He soon after deleted the tweet and reposted it, minus the "toasted." The criticism continued anyway for his choice of whole-wheat bagels.
But his choice order wasn't the only thing that caught people's attention. It was that he claimed to even be able to toast bagels at the Brooklyn restaurant.
According to Bagel Hole itself -- they do not toast bagels. A New York Daily News reporter called them up, where they confirmed:
So which part of de Blasio's bagel order is the most blasphemous? His choice of favorite bagel spot? The kind of bagel he gets? Or the fact that he toasts it? New Yorkers let him have it:
But nonetheless, some took his side: