Mets ace Jacob deGrom wins back-to-back Cy Young awards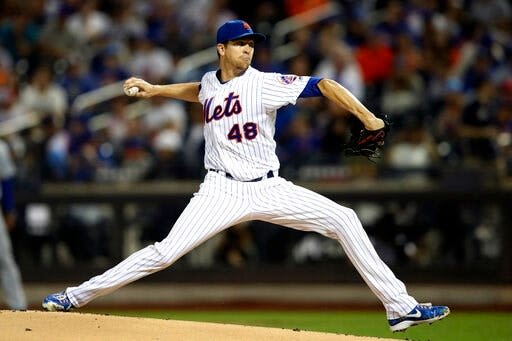 For the second consecutive season, Mets pitcher Jacob deGrom has been named the best pitcher in the National League.
DeGrom beat out the Nationals' Max Scherzer and the Dodgers' Hyun-Jin Ryu to take home the award.
DeGrom went 11-8 in 2019 with a 2.43 ERA and a National League-high 255 strikeouts. It was an impressive year that followed up an even more masterful season in 2018, where he posted a 1.70 ERA with 269 strikeouts.
He becomes just the second Mets pitcher to win multiple Cy Young awards alongside Tom Seaver, who won three. It's the seventh-total Cy Young to go to a Mets pitcher.
It is just the 11th time in Major League Baseball history a pitcher took home the prestigious honor in back-to-back seasons.
DeGrom garnered 29 of the 30 first-place votes, with one vote going to Ryu.