Nomiki Konst - Pay Folks More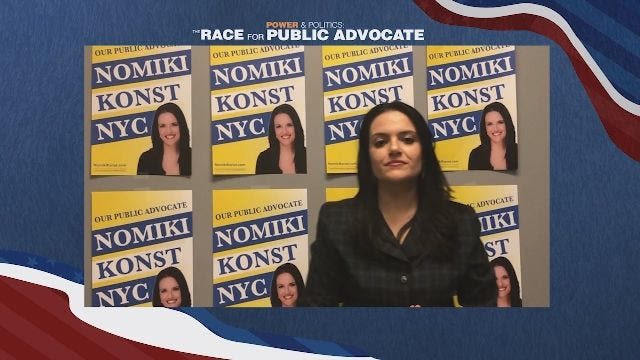 1. What would be your top priority as NYC Public Advocate?
It is my top priority is to fight for the minimum wage to be raised to 30 dollars an hour, to expand affordable housing, and to investigate corruption that is strangling the progress of our city.
2. How did you choose your party name?
The cost of living and rent is extremely high in New York and wages are historically low. I truly believe we need to raise wages for all New Yorkers in order to survive in this city. Raising the minimum wage to 15 dollars an hour is a great start, but it is not enough for a family to survive in an apartment anywhere, and sure as heck not in New York City. If the minimum wage was adjusted for the effects of inflation, it would be well over 30 dollars by now. We need to Pay Folks More.
3. What do you love about living in New York City?
The culture and diversity is unparalleled. I love the food! The worst day in New York is the best day anywhere else on the planet. That's why we need to preserve our city, protecting the best of it while improving all of it.
4. What's your least favorite thing about living in New York City?
The rent is too damn high.
5. What was your biggest challenge in school?
I was unruly. I was organizing protests. Following the rules was my biggest challenge.
6. How do we fix public transit?
Tax the rich and fund the subways. Stop the political games and municipalize the MTA.
7. If you could have dinner with any celebrity dead or alive, who would it be & why?
I would have dinner with Shirley Chisholm. She was a force of nature, afraid of nobody, and an undeniable progressive that challenged not only the status quo, but capitalism as well. She surprised the world with her tenacity and paved the way for so many others to do the same.
8. What needs to be done to improve conditions at NYCHA complexes?
With one out of eight New Yorkers living in NYCHA, we need an independent investigation and oversight. Furthermore, we should set mandatory attendance for all Housing committee chairs - with one allowed emergency exception - or otherwise face a fine or losing their chair's seat. Our next public advocate must be on the front lines as a watchdog, leading investigations into NYCHA, and pushing for increased funding.
9. Can you cook? What's your specialty?
Yes, I can cook. I am famous for my eggs. I marinate tomatoes and garlic, and then roast them. I fry eggs--they're kind of scrambled, but a little runny. Then I put the tomatoes and garlic in, and add feta cheese.
10. What inspired you to get involved in politics?
When I was 6 years old I started collecting recycling in my neighborhood because I wanted to stop global warming. This was my political start. Soon after, I made the front page of the newspaper for protesting climate change while wearing a turtle costume.
11. What's your favorite movie? TV show? App?
My favorite app is Twitter. My favorite movie is Gandhi. Broad City is my favorite TV show.
12. Any hidden talents?
I've been a yogi for 13 years. I'm also good at skipping stones.