Police: 9 hospitalized when vehicle jumps curb, overturns in West Farms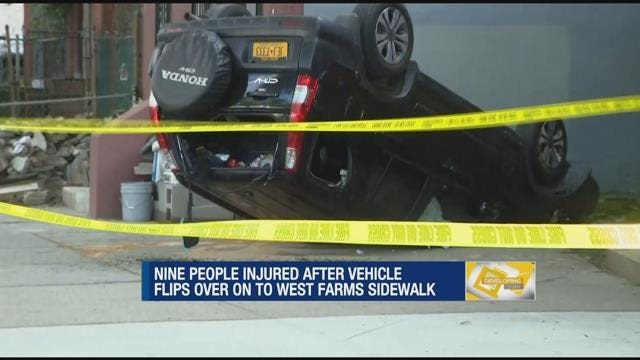 Nine people were hospitalized when a vehicle jumped a curb and overturned on a sidewalk in West Farms Friday afternoon.
Authorities say a woman was driving a Honda CRV on Southern Boulevard around 4:30 p.m. when it mounted a sidewalk, hit a step in front of a church and flipped over. It struck six people, including a 2-year-old, who were sitting on the step.
Police say three people were in the vehicle, including an 11-year-old. They add that all passengers and pedestrians involved were taken to hospitals with injuries not considered to be life-threatening.
The car has been towed from the scene.
One churchgoer said he believed a car struck the CRV before it jumped the curb, but police have not confirmed that and say they are still investigating.