President Trump: America will be open for business soon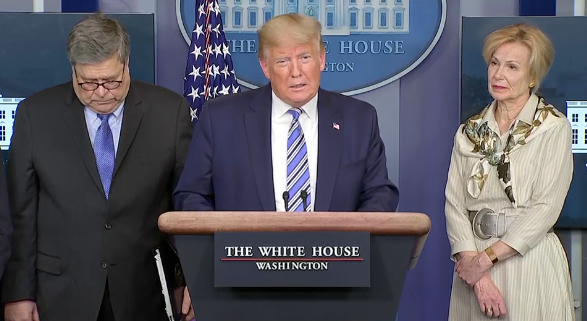 President Donald Trump says the United States is continuing to mobilize in the fight against the coronavirus and that normal life will return at some point "soon."
In a news briefing Monday, Trump said the nation must protect the Asian-American community in the U.S. and that the spread of the virus is not their fault in any way, shape or form.
Trump says virus is being studied and that "next steps" will be discussed.
"America was not built to be shut down," said Trump.
The U.S. will be open for business soon, according to Trump, sooner than three to four months.
Trump said the economic stimulus package that was again rejected by Democrats Monday should not be held up by partisan politics.
The president said critical medical equipment is being sent to areas that need it most. Trump also said he has made an executive order that will help stop people from hoarding vital supplies.
He also said the executive order will make sure fraudulent schemes related to the coronavirus are prosecuted.
During the conference, Dr. Deborah Birx says self-swabbing tests will be available "sometime this week."
Birx also said New York City has an "attack rate" that is five times higher than other locations.
The doctor called on citizens to continue social distancing in the New York area since the virus had "clearly" been circulating there for some time before first detected.
PHOTOS: The impact of coronavirus around the world