President Trump to 'look at' withholding funds to WHO after it 'missed the call' on COVID-19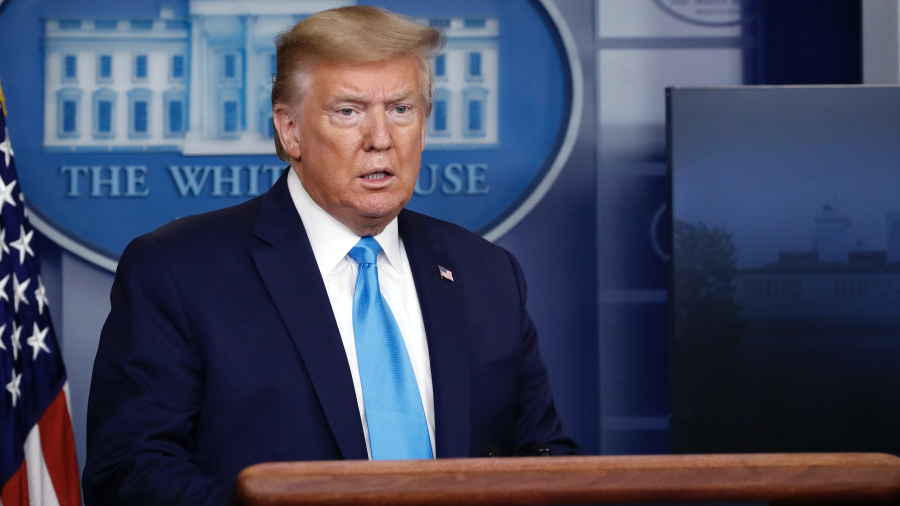 (AP) President Donald Trump said he would "put a hold" on U.S. funding for the World Health Organization, before backtracking and claiming, "I'm not saying I'm going to do it."
Trump made the comments at a White House press briefing as deaths and infections across the country continue to rise. Trump at first announced he would be cutting off U.S. funding to the organization. But when pressed on whether it was the right time, given the current crisis, he told reporters he was only looking at the prospect.
Still, he criticized the organization, saying they "they missed the call" on the pandemic and claiming that they seem to be "very China-centric." He claimed, "They should have known and they probably did know."
The WHO has praised China for its transparency on the virus, even though there is there is reason to believe that more people died of COVID-19 than the country's official tally.
PHOTOS: The world copes with the COVID-19 pandemic
Throughout his presidency, Trump has voiced skepticism of many international organizations.
During the briefing, President Trump said the coronavirus is hitting African Americans harder, according to data on the pandemic.
Trump says his administration is trying to address what he termed a "tremendous challenge." He says COVID-19 has been showing up in a disproportional way in African American communities.
Speaking at the White House daily briefing, Dr. Anthony Fauci says the medical community has known for a long time that diseases like diabetes, hypertension, obesity and asthma hit minority populations, especially African Americans.
He says the coronavirus hits these people suffering from these underlying conditions hard and often require intubation, intensive care and sometimes death.
Fauci, the nation's top infectious disease expert, says it's "very sad," but there is not much that can be done right now except to try to give these people the best care possible.
Notes from Coronavirus Task Force News Conference
President Trump thanks the American people for following the guidelines on "slowing the spread."
"Even during this painful week, we see glimmers of very, very strong hope."
President Trump says "massive airlift operation for critical supplies," called Project Air Bridge, continued Tuesday as five flights landed with PPE. Twenty-seven more flights scheduled over next few weeks.  
"We are pressing forward aggressive on the scientific frontier of the medical war." President Trump says medical companies are showing great potential for a vaccine.
President Trump: "I will protect you if your governor fails...but the governors are working well with us."
President Trump says there are 8,675 ventilators in the national stockpile. They are ready to be deployed "wherever the monster hits."
President Trump says there are 10 drugs in active trials with 15 more to follow to battle COVID-19. He says the two vaccine candidates are in active clinical trials.
President Trump says the World Health Organization has "been wrong on a lot of things."
"They called it wrong. They missed the call...We are going to put a hold on money spent to the WHO."
President Trump urges Americans to use #AmericaWorksTogether on social media.
President Trump says he didn't see January memos talking about the pandemic from his advisor Peter Navarro.
President Trump now denies that they are going to stop funding for the WHO. He says he's "going to look at it." 
President Trump says vote-by-mail ballots are "fraudulent in many cases" while speaking about voting in Wisconsin. "Mail ballots are corrupt."
President Trump touts hydroxychloroquine as a drug that can help COVID-19 patients.
"I would love to see a payroll tax cut...there are a lot of people who would like to see it as a permanent tax cut." President Trump blames Democrats for stopping it.
Vice President Pence: "I know I speak for the Coronavirus Task Force when I say our hearts are with the people of the greater New York City area today." 
VP Pence: "There's reason for hope...hospital admissions continue to decline [in New York]."
VP Pence: "We continue to see evidence of stabilization in some of the areas around the country with the most significant outbreaks."
VP Pence thanks workers who keep "food supply rolling" in America. 
The vice president says there are 3,000 Department of Defense and Health and Human Services medical personnel on the ground in the greater New York City area. "Those people will be redeployed" once outbreak is over there. 
Deborah Birx calls on country's lab directors to look for an "Abbot m2000, if they can get that up and running, we can double the number of tests that we are doing per day." She says 80% of them are currently idle.
The president is asking for further implementation of the CARES Act, which provides $100 billion for the health care system. $30 billion is being put forth this week as grants based on Medicare revenue. There are no strings attached as to how that money is used.
Dr. Anthony Fauci: "Health disparities have always existed for the African American community...[COVID-19] is shining a bright light on how unacceptable that is."
PHOTOS: The impact of coronavirus around the world