St. Peter's Food Pantry closes in Mott Haven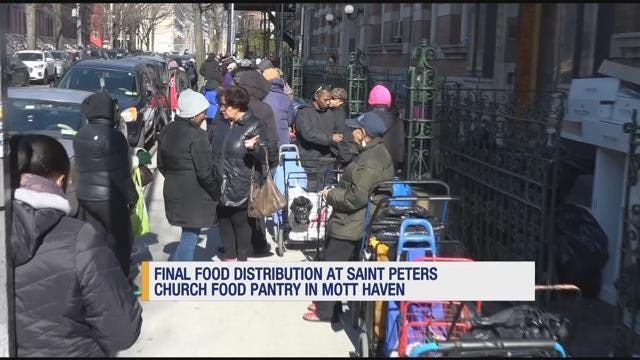 A food pantry that has served the Mott Haven community for over three decades is closing its doors for good Wednesday.
The St. Peter's Food Pantry on East 140th Street distributed its final bags of food to needy families. The line for the food stretched down the block.
Families say they now have to find another food pantry since this one is closing.
A state Supreme Court Bronx judge ruled in favor of the Metropolitan New York SYNOD over the food pantry property that's owned by St. Peter's Evangelical Lutheran Church two weeks ago.
Volunteers claim that they were locked out of the property and had 30 days to appeal the ruling.
The congregation says their main concern was being shut out of the pantry. The locks were changed, but they say it turned out that the front door was still open, allowing them to distribute food for one last time.
News 12 reached out to the Metropolitan New York SYNOD for comment.