Staff Picks: Rustic yet chic - glamping at Camp Rockaway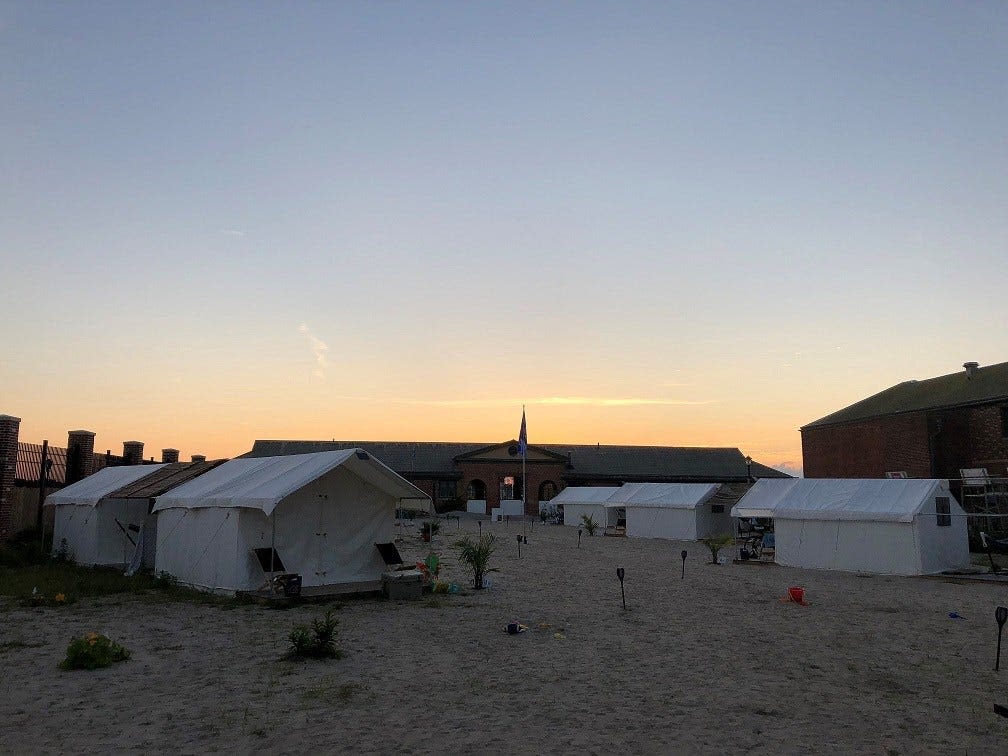 By Brian Heyman/Managing editor
Camp Rockaway at Jacob Riis Beach offers a camping experience that manages to be both family-friendly and hip, rustic yet chic and all with a bit of sustainability as a cherry on top.
Situated behind the old art deco bathhouse, the campground offers 12 safari-tented units for glamping, along with a communal firepit and a picnic area. 
The safari tents are inspired by turn of the 20th century Rockaway camping, but each space has fans, lighting and a bed. A solar-powered battery allows you to keep your cellphone and other devices charged, and WiFi is available at the campsite. The space has a private restroom available for campers and gas-heated showers for a more comfortable space to clean off.
"The old postcards and photos of the 'tent colonies' from the turn of the century have definitely influenced the design of the campground," says camp director Kent Johnson. "Those places certainly weren't designed with luxury in mind, but they were comfortable. The point of a camping trip isn't to stay in your tent the whole time - in our case the beach is just a few steps from the campground - so while our tents are well appointed and have modern conveniences, they're still designed to be basic, clean and modern."
Camp Rockaway is steps from the beach and right off the boardwalk. We spent most of our daylight just enjoying the sand and water, but those who want to venture further out or who are on an extended stay can check out nearby
activities, shopping and cultural offerings.
 Jacob Riis Beach is a part of the National Park Service's Gateway Recreational Area and close to sister NPS sites Fort Tilden and Jamaica Bay Wildlife Refuge, which offer hiking, nature walks and other park-curated programs.
"We've tried to design Camp Rockaway as a base camp for exploring everything the peninsula has to offer, from surfing, kayaking, fishing and bird watching, to shopping, nightlife and art," says Johnson. 
Hungry? The communal firepit serves as cooking space for anyone who wants to grill up some campfire favorites and at night doubles as a spot to make some s'mores and hang out. Foodies not in the mood to grill can stroll up the boardwalk and order from any of the
Riis Park Beach Bazaar eateries
. Wanna grab a drink? Head next door to the Bathhouse Beer Garden. 
Hammocks, lounge chairs, reading material and games are provided on site. An on-site store has insect repellent, sunscreen and other beach necessities available purchase, as well as souvenir apparel.
Sustainability is important to the Camp Rockaway team. Look around and you'll see solar power harnessed to keep the camp running - from the charger for your phone to the lighting that lines the walkway at night. 
"We're big proponents of sustainability, so we do as much as possible with solar - each of the tents has its own solar panel that charges the lights and fans, and our communal tent has a solar charging station for phones and can run our coffee machine and most of our other electrical devices."
The best part of most adventures is sharing it, and Camp Rockaway seems to foster a sense of community with its guests - whether you camp in a larger group or just bond over the shared experience with fellow campers.
"I love the diversity of guests that we have come to the campground," says Johnson. "We get people from all walks of life, and there's something about sitting around a campfire and relaying the day's experiences and adventures that gets people to open up and connect in a way that might not happen otherwise. It's great to see people bond over a shared experience. We had a big storm come through the other night, and the next morning, after the sun came out and everyone was having coffee, there was such a sense of community as guests swapped stories about how they felt so safe and dry while the rain and wind passed outside. Almost everyone says they can't wait to come back. To me, that's the best thing I could possibly hear because I know they're going home with a great memory of Camp Rockaway."
Johnson's main message to potential visitors is to come explore, recreate and relax. 
"You don't have to go far to feel like you're a world away," he says.
And he hopes visiting the space may foster a deeper connection with the environment and the community.
"If we succeed in introducing our guests the importance of New York's barrier islands and their ecosystem, and to the low-impact recreational opportunities within a few miles of their homes, then maybe we'll have a better shot at preserving and protecting our local environment and the city we call home."
Nature meets luxury at Queens 'glamping' site Camp Rockaway:
Camp Rockaway 'glamping' site draws inspiration from turn-of-the-century tent colonies: