Mayor announces $3 million plan to revitalize the restaurant business in NYC following COVID-19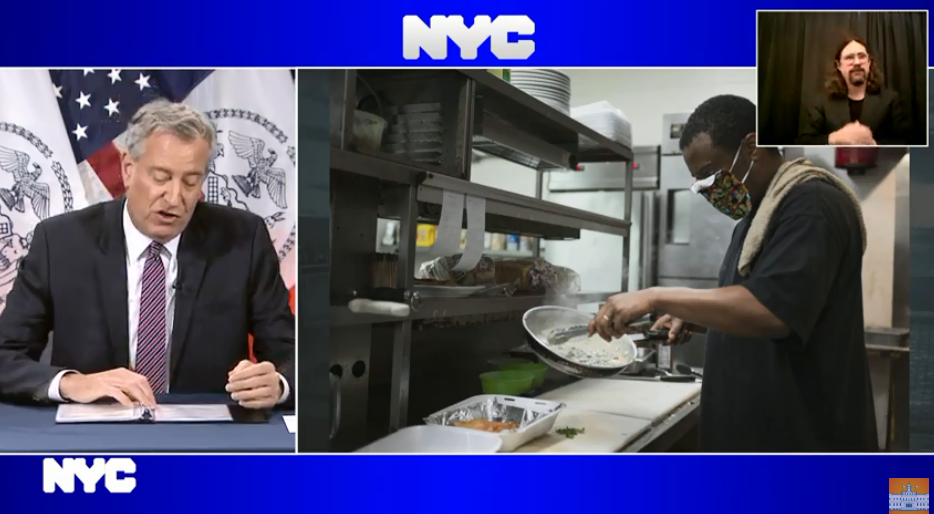 Mayor Bill de Blasio announced a plan to help revitalize the restaurant business in New York City following the coronavirus pandemic.
He announced the Restaurant Revitalization Program will support unemployed and underemployed restaurant workers.
He says $3 million will come from NYC Opportunity, Mayor's Fund to Advance NYC and One Fair Wage.
There will be a focus on 27 communities hardest hit by COVID-19. Grants of up to $30,000 each will be given to subsidize wages of $20 per hour for at least six weeks, supporting 1,000 workers.
The mayor says 100 restaurants will be selected initially, with preference given to those who offer free or reduced cost meals to New Yorkers affected by COVID-19. All restaurants must commit to $15 minimum wage on top of tips within five years of returning to regular business.
Three youth programs will also be implemented by NYC Young Men's Initiative and in partnership with Department of Probation Neighbor Opportunity Network (NeON).
The three programs will include NeON Summer, Each One Teach One and Community Crisis Response Initiative.
The program aims to help youth learn and earn up to $1,200 this summer.
The $3.65 million will be given to support NeON Summer, offering 2,700 young people a paid six to eight week remote-learning summer immersion.
$100,000 will be given to Each One Teach One to support and connect youth with mentors and media experts. Youth will be paid to design media messaged and campaigns to promote social distancing and amplify public health information.
Community Crisis Response Initiative will be given $220,000 to support at least 500 youth at 22 community-based organizations focused on crisis response. Up to $10,000 per organization will be given to help expand youth programming, food and PPE distribution, public health education, mental health and art therapy services.
New York City will also host a series of Youth Town Halls in each borough. NYPD officer will partner with Cure Violence providers and meet with local teens to openly explore interactions between youth and police.
The pilot will be in Harlem with Street Corner Resources and will expand to all five boroughs in areas with high police and youth interactions. These areas will include East New York, Brownsville, Jamaica, Far Rockaway, North Shore Staten Island and the South Bronx.